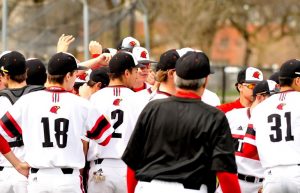 The Illinois Tech Baseball team dropped the final game of its week-long road trip to Keene State, losing 14-6.
Runs-Hits-Errors
Keene State: 14 runs, 16 hits, seven errors
Illinois Tech: six runs, 10 hits, six errors
How It Happened
After two scoreless innings by Illinois Tech starter Ian Duke, Keene began scoring in the bottom of the third. The Owls' Nate Rossi hit a two-run single in the bottom of the third followed by an unearned run on a sacrifice fly, giving Keene the early 3-0 lead.
The Owls erupted for eight runs in the bottom of the fourth, blowing the game open. David Sevigny started the big inning for the Owls with a two-run home run off of Duke, followed by three consecutive run-scoring singles by the home team. A couple of Scarlet Hawk errors yielded three more runs and Illinois Tech trailed 11-0.
In the sixth, Illinois Tech finally got on the scoreboard after shortstop Orlando Cardenas-Juan singled to begin the frame and catcher Zachary Dickey walked. Then first baseman Ted Howell reached on an error and Cardenas-Juan was able to score from second base. Second baseman DJ Rybski and right fielder Peter Upham followed up with RBI singles and the Hawks tacked on another unearned run to close the gap slightly 11-4.
Keene got one run back in the bottom of the sixth after a run scored from an errant throw by the Illinois Tech shortstop, bringing the score to 12-4.
Both teams added one run each in the seventh. Illinois Tech earned its fifth run on a groundout RBI by Cardenas-Juan in the top of the inning and the Owls scored on an sacrifice fly by Connor Longley.
The game drew to a close with one more unearned run apiece. Keene scored in the bottom of the eighth and Illinois Tech center fielder Michael Courtney tallied the last run for the Scarlet Hawks, resulting in a 14-6 victory for the Owls.
Scarlet Hawk Standouts
Upham finished two-for-three with a walk and an RBI.
Rybski went one-for-four with a run and RBI.
Courtney also contributed two hits in five at-bats with a run scored and a stolen base.
Up Next
Illinois Tech will begin the home schedule on Saturday, March 24 at Ed Glancy Field against conference opponent MSOE in a double-header beginning at noon. Live stats, video and audio will be available. The live video and audio will be provided by the Illinois Media School.