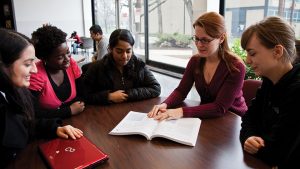 In the 2018 medical school admission cycle, 75% of Illinois Tech undergraduate premedical students were accepted to health professions schools after graduation. This is a record-breaking number for Illinois Tech, and it far exceeds the national matriculation rate of 42%.
This is due in part to the effort put forth by the Premedical Advisory Committee, chaired by Kathryn Spink, director of pre-health professions programs and senior lecturer of biology. The committee strives to provide individualized guidance to all Illinois Tech students in their efforts to pursue a career in the health professions. Premed and pre-health students come from many majors across the entire university. In addition to their major academic advisor, they are assigned a premedical advisor. This advisor helps with scheduling medical school course requirements, monitors academic progress, and identifies volunteer and research opportunities. Advisors also help with the medical school admission process.
"Illinois Tech was a great choice [for premedical school] as it focused on core science classes that truly aided me in my preparation for the MCAT and even my curriculum in graduate school. Having Dr. Spink as a resource was always comforting as I never felt lost in the process," said Mohannad Safadi (BIOL '17), who is currently enrolled at the University of Illinois at Chicago College of Medicine.
To new premedical students, Spink advises, "We recommend that you come and get advice early and often, and interact with your peer groups in the American Medical Student Association (AMSA) and MEDLIFE."
To learn more about pre-medicine at Illinois Tech, visit the website or contact Spink at spink@iit.edu.