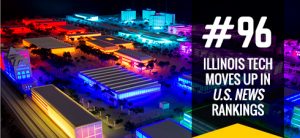 Illinois Institute of Technology (Illinois Tech) is ranked among the top 100 schools in the National Universities category of the U.S. News & World Report 2019 Best Colleges ranking, released this month. The #96 ranking is a jump from the 2018 and 2017 ranking of #103 (tie) and marks the first time in a decade that Illinois Tech has cracked the top 100.
The university is ranked #30 in the Best Value Schools list, up from #38 in 2018. Illinois Tech's population of international students (21 percent) was also ranked at the top of the list.
U.S. News & World Report provides nearly 50 different types of numerical rankings and lists to help students narrow their college search. The four overall rankings – National Universities, Liberal Arts Colleges, Regional Universities and Regional Colleges – are based on factors that indicate academic quality, such as graduation rates and faculty resources.
Read more information about Illinois Tech's U.S. News & World Report rankings here. To view the methodology, data, and other ranking information, visit the U.S. News & World Report college rankings website here.