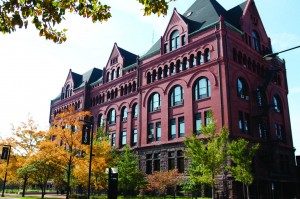 Illinois Tech has announced the sale of its historic Main Building to Armour Institute, LLC, which plans to completely renovate the 125-year-old landmark and turn it into a residential building featuring more than 100 new apartments.
"We are thrilled that Main Building will be renovated in a way that contributes to our community as well as the vibrancy of our campus life," said Illinois Tech President Alan W. Cramb. "This project will honor the architectural legacy of Main Building while providing unique housing options for our students, young professionals, and others who want to live near our historic campus in Bronzeville only minutes from downtown."
"The Main Building redevelopment will mean new job opportunities as well as significant investment right here in Bronzeville," said 3rd Ward Alderman Pat Dowell. "This project, and others like it, are helping to bring even more opportunity and economic growth to our historic neighborhood."
Main Building was built in 1892 and declared a city landmark in 2004.
"It's great to see a designated Chicago landmark being revitalized with contemporary uses that support Illinois Tech's mission and its role as a longtime community anchor," said David L. Reifman, commissioner of the Department of Planning and Development, which coordinated zoning and selected permit approvals for the project.
Armour Institute, LLC, which is a partnership of Washington Park Development Group and MCM Company, Inc., will conduct the renovation. The historic integrity of the building will be maintained through the renovations, with important features of the building being restored, including the facades, roof, and stained glass windows.
The interior will be converted into 102 micro- and one-bedroom apartment units with washers/dryers and full kitchens complete with custom cabinets, solid surface countertops, and ceramic baths. The building will also include amenities such as a fitness center (including virtual fitness options), bike storage, community space, and a package concierge service. A green rooftop deck will round out the offerings.
"The redevelopment of the Armour Building into an iconic, historic, loft-style residential development will provide a unique opportunity to create a market-rate residential property in this historic neighborhood," said MCM President Melissa Ferchill and WPDG Partner Ghian Foreman in a joint statement. "Garnering what we believe will be the most competitive market-rate rents on Chicago's South Side, the Armour Building redevelopment will be a catalyst for the future development and the further renaissance of the Bronzeville neighborhood and Chicago's South Side."