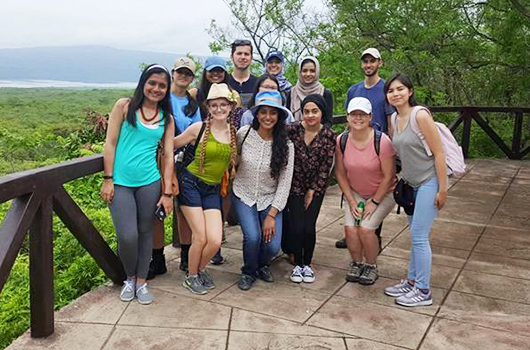 Eleven Illinois Tech MEDLIFE chapter students recently spent one week in Managua, Nicaragua. MEDLIFE is an international, non-governmental organization based in South America that partners with motivated, poor individuals from the communities to improve their access to education, healthcare, and community development. The mission of MEDLIFE is not only to provide assistance to these individuals, but to sustain these effects. Amongst the Illinois Tech MEDLIFE chapter group were six engineering students: Ilma Lodhi (BME 4th year), Teresa Plascencia (ARCE 1st year), Nirja Shah (BME 4th year), Shailee Shah (BME 3rd year), Austeja Staneviciute, (BME 3rd year), and Diana Wu (CHE 2nd year). College of Science students also took part in the trip: Quratulann Khan (Annie) (BIOL 3rd year), Abdallah Hasan (CHEM 1st year), Mohannad Safadi (BIOL 4th year), Nour Issa (BIOL 2nd year), and Evelyn Thomas (BCHM 4th year). Kathryn Spink, senior lecturer of biology, chief health professions advisor, and chair of the University Premedical Advisory Committee accompanied the students.
The students' first day started at a landfill, where locals spend hours each day searching for plastic to resell in order to make a living. This "reality tour" gave the students a first-hand account of the hardships facing the people living in Managua on a daily basis.
The remaining six days were spent developing mobile clinics in various surrounding communities, where the students observed and assisted the doctors providing treatments to the local patients. The mobile clinics consist of two doctors' stations; a triage station where the Illinois Tech students recorded basic patient information such as height, weight, temperature, blood pressure and medical history; a dentist; pharmacy; and OBGYN. Students also taught toddlers and young children about the importance of good hygiene at a tooth brushing station.
Despite the hardships faced by the locals, the students were welcomed into the communities and their outreach was greatly appreciated.
Learn more about the group and their activities by following them on Facebook.