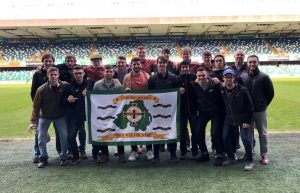 The Illinois Tech Men's Soccer team traveled to Ireland and Northern Ireland during spring break (March 9–15). For several players, it was their first time traveling outside of the United States. The trip to the United Kingdom and Ireland provided an unforgettable cultural and team bonding experience for the players.
On March 9, the team flew out of Chicago O'Hare International Airport to Dublin, Ireland. Upon arrival into Dublin, the team boarded a chartered bus to Belfast, Northern Ireland.
After making it to Belfast, the Scarlet Hawks did not have time to sleep. They immediately departed via London-styled black taxis to attend a Northern Ireland Professional soccer game. It was a glimpse of European Football for the entire team. The football culture was extraordinary in Northern Ireland. Both teams had loyal, dedicated, and passionate fans that supported their team through thick and thin. The style of play in Northern Ireland was very unique as they relied heavily on winning 50-50 balls as well as dominating the game both mentally and physically.
After returning from the game, the men's team arrived back at their hotel around Belfast's City Centre. Throughout the next five days, the team experienced the culture and beauty of Northern Ireland in all aspects. Everyday they went to different restaurants to experience the original foods of Northern Ireland.
They visited several of Northern Ireland's cities and top attractions. The team toured the City Centre going to several of the major attractions such as the weekly farmer's market, Belfast's capital building, and many of the shops and stores.
In addition, the team toured along the Antrim Coast Road visiting the Giant's Causeway, Dunluce Castle, the Cushendun Caves and visiting many of the accompanying towns on the beautiful coastline. In the middle of all the tours, the team played two matches against top local competition. In the following days, the team visited the Titanic Museum and toured the Northern Ireland National Training Center as well as their National Stadium at Windsor Park in Belfast.
After an amazing time in Northern Ireland, the team headed south to Dublin, Ireland, where they spent the last night of their trip. The Scarlet Hawks toured the city, enjoyed great food, and embraced the atmosphere of the city. They visited several of the city's landmarks including the prestigious Trinity University and several authentic Irish shops and stores.
The team wrapped up its incredible journey visiting all of the top attractions in both Ireland and Northern Ireland as well as preparing the team for another successful season coming this fall.
*Written by men's soccer player Noah Kwortnik.