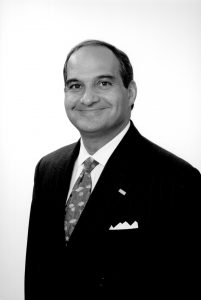 Bahman Atefi, who served as president of IIT Research Institute before becoming president and chief executive officer of Alion Science and Technology Corp., passed away suddenly at his home in McLean, Virginia, on March 5.
Originally from Tehran, Iran, Bahman came to the United States to attend Cornell University, obtaining a bachelor's degree in electrical engineering, and Massachusetts Institute of Technology, earning both a master's degree and a doctorate in nuclear engineering. His first position was as a nuclear engineer at the United States Department of Energy's Brookhaven National Laboratory.
Bahman then spent 15 years advancing his career at SAIC (Science Applications International Corporation), last serving as senior vice president of the company's Energy and Environment Group before joining the nonprofit IITRI, owned by Illinois Institute of Technology (and still operated today as an independent nonprofit preclinical contract research organization and research institute). Bahman became IITRI's president in 1997 and CEO in 2001. One year later he was heading Alion as president and CEO after forming the new employee-owned company from the sale of the majority of IITRI's assets. In 2017 Bahman left those positions to assume the role of vice chairman of the Alion board of directors.
President Emeritus Lew Collens said, "Bahman led the transformation of IITRI at a critical time in IIT's history. The result was a dramatic increase in value that enhanced the well-being of IIT as well as IITRI's employees. He was a remarkable leader and a wonderful human being."
Considered an expert in nuclear power plant risk management and the application of risk management techniques to other industries, Bahman was the recipient of numerous awards, including the ACG National Capital Corporate Dealmaker of the Year (2006) and the Ernst & Young Entrepreneur of the Year for the greater Washington, D.C., area (2003). Active in his local Iranian-American community and a founding member of the Public Affairs Alliance of Iranian Americans, Bahman was honored by the Iranian-American Technology Council in 2003 for his contributions to the field of technology. He was also elected to the IIT Board of Trustees in 2003.
Bahman's wife, Hamila, three children, and one granddaughter survive him.