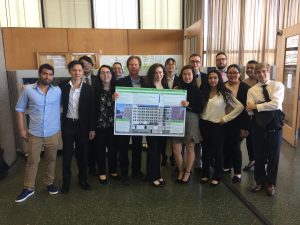 Illinois Tech's NECA student chapter team beat out approximately 27 U.S. universities to earn the first of three top spots in the first round of NECA's National Green Energy Challenge. The team will compete against Penn State and Iowa State. The top three teams each received a cash prize and an all-expense paid trip to the 2018 National NECA Conference in Philadelphia where they will make a final presentation to a team of industry judges.
Illinois Tech's entry grew out of an Interprofessional Project (IPRO) Program in which students completed an energy audit for the Chicago Institute of Cultural Affairs. For the next phase of the Green Energy Challenge, the team will work with Illinois Tech Adjunct Professor and NECA Student Chapter Advisor Dan Tomal and Frank Gurtz, president and CEO of Gurtz Electric Company in Chicago to refine their presentation.
In 2017–18, the Illinois Tech NECA student chapter has been active in helping companies install donated equipment in the School of Applied Technology Smart Tech Lab. Some of the members appeared in a video about the lab made by and for NECA with President David Long. They hope that these activities will help them compete at the National NECA Conference as the national Outstanding NECA Chapter of the Year.