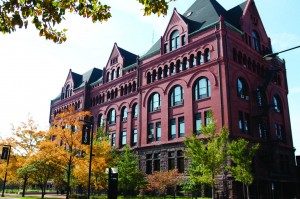 Illinois Institute of Technology is partnering with MCM Company, Inc. to restore and convert the university's historic Main Building, 3300 S. Federal Street, into 84 residential dwelling units.
"Illinois Tech is excited to be collaborating with MCM on the adaptive reuse of Main Building," said Bruce Watts, VP of facilities and public safety. "We are working through zoning approval and negotiation of agreements with MCM for the work that will restore this historic Chicago landmark and convert it to residential apartments. This will be a vibrant improvement to our campus, further establishing the university and its tech park as a growth engine on Chicago's south side and spurring other positive development in the Bronzeville community."
The project is in the early planning stage. Specific restoration details and a project timeline are still being coordinated between Illinois Tech and MCM.
Main Building was built in 1892 and declared a city landmark in 2004.