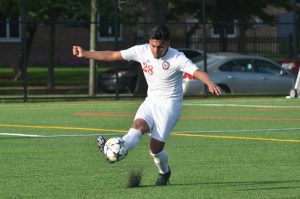 The Illinois Tech Men's Soccer team picked up a non-conference victory against Maranatha Baptist (2-9) at Stuart Field on October 8. The Scarlet Hawks (7-6) outshot the Saber Cats (2-10), 23-4.
How It Happened
The Scarlet Hawks scored three goals in the first 13 minutes of the match.
Conner Shaw found the back of the net and got Illinois Tech on the scoreboard in the second minute.
Luigi Michelin scored a goal in the fifth minute.
Luke Holzman added to the lead as Quentin Dreilich passed to Diego Cazales and Cazales found Holzman for the back of the net in the 12th minute.
Alex Kern picked up his second straight victory in goal, recording one save.
Anastasios Manolis had a quiet second half as goalkeeper but he did not allow a goal.
Scarlet Hawk Standouts
Peter Fouchet recorded six total shots on the evening (two on goal).
Matt Gombar, Shaw, and Christopher Reed all recorded three shots.
Michelin recorded two shots (both on goal) and a goal.
Dreilich picked up two huge assists that led to Scarlet Hawk goals.
Up Next
Illinois Tech returns to Northern Athletics Collegiate Conference action on Wednesday, October 10 against the Marian (Wisconsin) Sabres at 7 p.m.