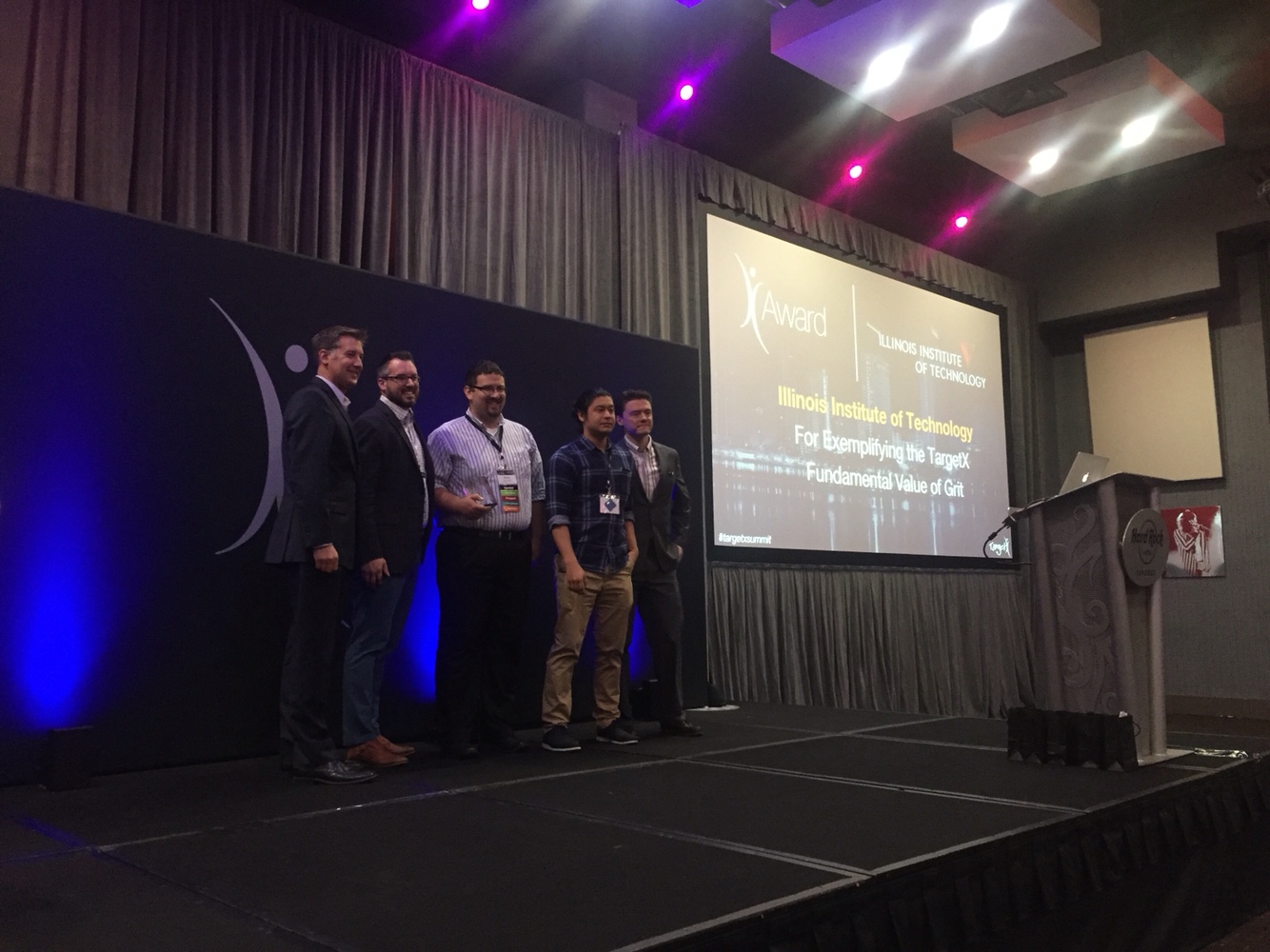 During the opening keynote speech at the TargetX conference in San Diego, the CEO of TargetX, Sasha Peterson, presented Illinois Tech with an award for Exemplifying the TargetX Fundamental Value of Grit. Only one other school received an award at the most well-attended conference of TargetX, a company founded in 1998.
Shortly before the conference, April Welch, Bryan Woods, and Josh Tate were involved in a webinar describing the importance of having a mobile-optimized application for college admissions. TargetX completed a case study called IIT Achieves Record Breaking Application Year after Implementing the TargetX Online App with information from the webinar.
Under the leadership of Michael Gosz, Abby McGrath, and April Welch, the Enrollment Process Intelligence team consisting of Matt Blanski, Fred Hadzovic, Josh Tate, Bryan Woods, and Maureen Tully implemented the new TargetX Customer Relationship Management software for admissions, launching the new online application on September 1, 2016. To help other conference attendees with their implementations of the new TargetX CRM software, Bryan Woods and Josh Tate were asked to present on the Illinois Tech implementation. A description of the presentation is below. View the full presentation here.
Soon after an astonishingly quick six-month transition from its previous CRM software and implementation of the TargetX software, Illinois Tech is on pace to achieve record enrollment for fall 2016. As early adopters of the TargetX Online Application and Decision Cloud, Illinois Tech quickly grew its Salesforce user-base to more than 300 users, about one third of the staff/faculty population. Illinois Tech monitored its progress through built-in Salesforce reporting and dashboard features, expanded functionality through third-party applications such as GeoPointe and TaskRay, created customizations on top of the TargetX-delivered App Tracker, and developed custom functionality allowing for easier integration with the system of record.