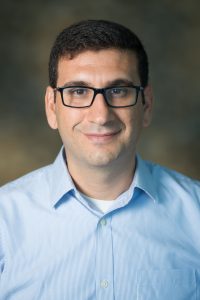 Illinois Tech Assistant Professor of Electrical and Computer Engineering Salim El Rouayheb has been awarded a prestigious NSF CAREER Award to address the privacy challenges associated with cloud storage. The award is expected to total $623,977.
Due to the big data revolution, a massive amount of personal information is now stored in the cloud to enable users to easily access photos, videos, publications, opinions, and scientific research. Unfortunately, the accessibility of cloud storage can come at the expense of users' online privacy.
El Rouayheb's research aims to create a unified framework for studying coding schemes that, in addition to providing data reliability, offer enhanced privacy not currently available through cloud storage models.
"We're using algorithms to protect users' privacy when accessing, sharing, and searching data in the cloud," said El Rouayheb. "Imagine being able to search Google without revealing to Google what you're searching for. It sounds impossible, but it's not."
The project also incorporates several educational and outreach efforts, including the development of new publicly accessible online content on information theory, security, and privacy in distributed storage systems as well as pre-college outreach through the Illinois Tech Global Leaders Program.
"We are so very proud that our junior faculty have been recognized yet again for their academic and research excellence," explained Armour Dean of Engineering Natacha DePaola.
The NSF CAREER Award is one of the National Science Foundation's top honors given to junior faculty members. The award program supports faculty who exemplify the role of teacher-scholars through outstanding research, excellent education, and the integration of education and research within the context of the mission of their organizations.