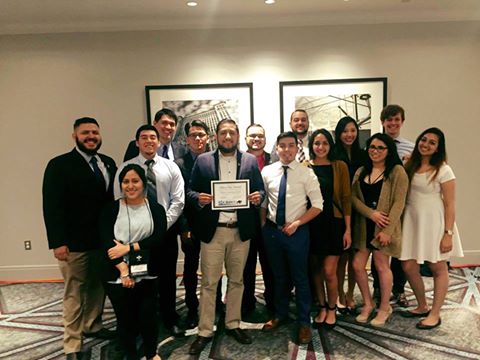 During the 2017 Region 6 Leadership Development Conference in Detroit, the Society of Hispanic Professional Engineers (SHPE)-IIT chapter was one of four college chapters that received the Blue Chip Award. This award highlights a chapter's growth and success during the fall 2016 semester.
On March 23 more than 20 SHPE-IIT students attended the Region 6 Regional Leadership Development Conference. The conference takes place annually in seven regions across the country. It focuses on developing leadership skills, improving pre-college outreach programs (SHPE Jr.), and strengthening the infrastructure of each SHPE chapter.
The Society of Hispanic Professional Engineers (SHPE) is a professional organization that works at the national level to enhance and unleash the leadership potential of Hispanics in science, technology, engineering, and mathematics. Region 6 consists of more than 50 chapters spanned across nine states. The SHPE-IIT chapter works hard everyday to fulfill its mission by increasing educational opportunities, promoting professional and personal growth, and promoting a sense of unity within the Hispanic community.
To learn more about SHPE-IIT, click here.