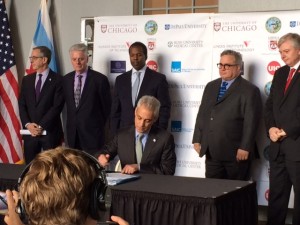 Illinois Institute of Technology and the city of Chicago signed a Memorandum of Understanding (MOU) during a ceremony on December 16, 2015, that outlines economic and community investments over the next three years. Illinois Tech joined seven other institutions in signing separate MOUs with the city in which the schools outlined their anticipated private investments in local neighborhoods and the city reinforced its commitment to supporting the projects through timely review and approval of building permits and public infrastructure investments.
"One of Chicago's greatest strengths is our world-class universities," Mayor Emanuel said. "They provide pathways to great careers for their students and with the help of these agreements will become even stronger engines of opportunity for our neighborhoods."
The announcement includes more than $2.2 billion in planned capital improvement projects by the universities and $230 million in projects that are currently underway. The projects will create jobs in neighborhoods across the city – from Hyde Park to Bronzeville to the Near West Side to Rogers Park. Ranging from new research facilities to new dormitories to rehabilitated mixed-use structures, the projects will reinforce the schools' roles as neighborhood anchors, through job creation, local purchasing, public safety, cultural resources, beautification, affordable housing, and related forms of civic engagement.
Collectively, the schools represent more than 118,000 undergraduate and graduate students and employ more than 60,000 faculty and staff.
Illinois Tech's $100 million improvement plan in Bronzeville includes a new Kaplan Institute for Innovation and Tech Entrepreneurship, the reutilization of the Main Building for rental housing, and renovated residence halls. Illinois Tech will also continue its summer programs for Chicago Public Schools students and partnerships with Community Colleges of Chicago.
Illinois Tech President Alan W. Cramb signed the document on behalf of the university.
"IIT's role as a community anchor continues to evolve through targeted investments like the Kaplan Institute and improved housing resources. Our agreement with the City will help maximize these investments for students, staff, and the entire neighborhood for years to come," said President Alan W. Cramb.
Other institutions that signed agreements with the city include The University of Chicago, DePaul University, Loyola University, Northwestern University, the University of Illinois-Chicago, the School of the Art Institute and Rush University.