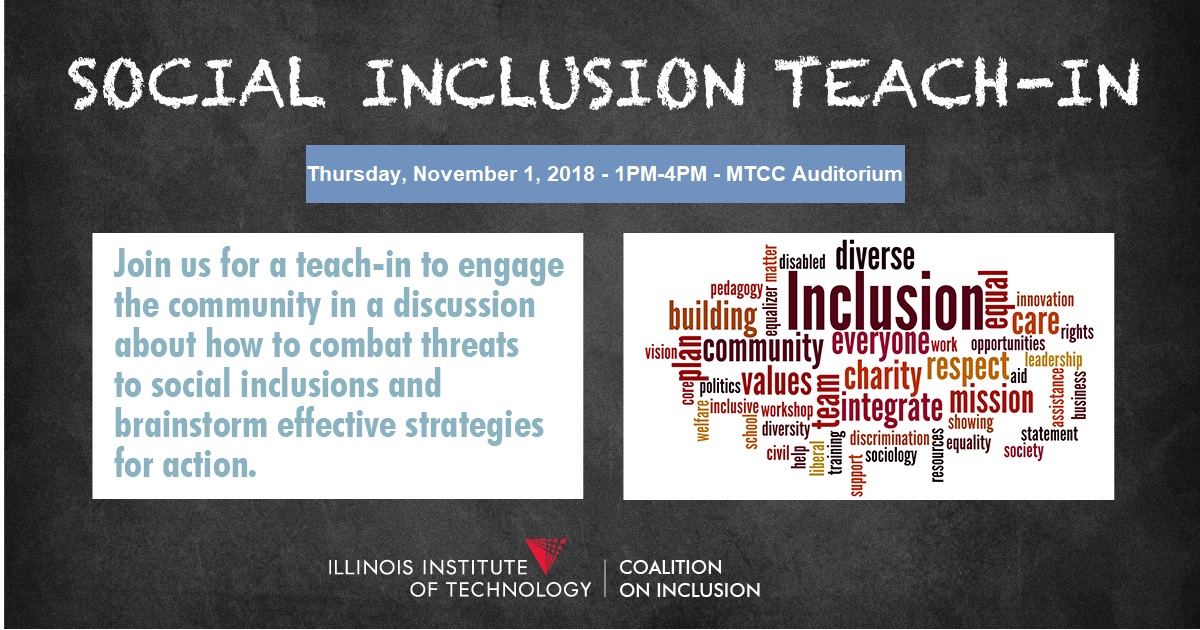 The Illinois Tech Coalition on Inclusion will host a Social Inclusion Teach-In on Thursday, November 1 from 1–4 p.m. in the McCormick Tribune Campus Center (MTCC) Auditorium.
We live in times where some of our political leaders are promoting discrimination and segregation. Rights of people that differ in ethnicity, religion, immigration status, gender, sexual orientation, religion, and disability are threatened by a growing group of people in the United States. The Illinois Tech Coalition on Inclusion is hosting a teach-in to engage the community in a discussion about how to combat threats to social inclusions and brainstorm effective strategies for action.
Presentation Schedule
1 p.m.: LGBTQ
1:30 p.m.: African American Rights/Bronzeville
2 p.m.: Immigration: Know Your Rights
2:30 p.m.: Women's Issues and Domestic Violence
3 p.m.: Disabilities
3:30 p.m.: Transgender Inclusion on Campus
The Social Inclusion Teach-In is free and open to the public. Attendees can stay for the entire event or select sessions of interest. Questions can be directed to Mehak Hafeez.