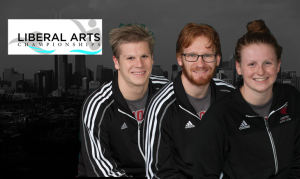 Three Illinois Tech Swimming and Diving athletes have been honored by the Liberal Arts Conference for weekly awards. Brendan Howley (Men's Swimmer of the Week), Katherine Lydon (Women's Swimmer of the Week), and David Polzin (Men's Diver of the Week) all impressed at the University of Chicago Phoenix Fall Classic.
Howley broke two school records. He posted a time of 56.04s in the 100 Yard Breaststroke, earning him second place in the event. He also notched a record time of 2:04.00 in the 200 Yard Breaststroke, which gave him a fourth-place finish. Both of these times also notched him the top times on the Liberal Arts Conference leaderboard. Howley also placed fifth in the 50 Yard Freestyle with a time of 21.69s.
Lydon had an incredible meet for Illinois Tech amongst some of the region's top competition. She set school records in the 500 Yard Freestyle (5:05.74) and 1650 Yard Freestyle (18:20.66). Lydon's times in both races placed her at the top of the leaderboard in the Liberal Arts Conference. In addition, she set the best time in the conference in the 400 Yard Individual Medley (4:42.40). Lydon was also a part of two relay teams that set top LAC times: the 400 Yard Medley Relay (4:10.88) and 800 Yard Freestyle Relay (8:13.85).
Polzin finished 11th overall in 1 Meter Diving portion of the weekend's meet with a total score of 307.50, the best mark of his collegiate career. This score also earned him the top spot on the Liberal Arts Conference leaderboard.
Illinois Tech has the week off before getting back to competition Saturday, December 3 when they host the Ted Erikson Invite at 1 p.m. at the Keating Sports Center. Live video will be available for the event.