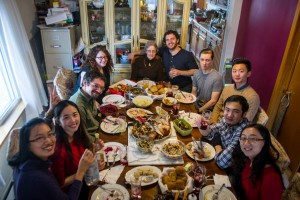 The deadline to sign up as a host for the Illinois Tech Thanksgiving program has been extended to Tuesday, November 24. 
Each year the International Center at Illinois Institute of Technology asks faculty, staff, alumni and student families to invite one or more international students into their homes for Thanksgiving dinner.
You might have studied abroad and wondered what it would be like to celebrate a holiday with a family from your host country. Or perhaps you were a student who was far from home and you can recall how it felt during the Thanksgiving holiday without the company of family and friends. If you are in the Chicago area, this is your chance to give an international student the opportunity for a new experience and lasting memories of their time in the United States.
With over 3,000 students and scholars from more than 100 countries, there is ample opportunity to extend your family's hospitality for one day. Moreover, this is an excellent opportunity for an international student to become immersed in American culture, eat a home-cooked meal, experience an American tradition, and have a relaxing day off campus.
To sign up to be a host for this cultural exchange program, complete this form as soon as possible. If you have any questions, contact Brianna Jones, international student advisor at bjones22@iit.edu.
For meal planning purposes, plan on hosting the maximum number of students which you have indicated on this form – this program is very popular and over 100 students have already signed up. Additionally, feel free to email Brianna anytime if you would like an earlier estimate of numbers.
Thank you for your generosity and hospitality to our students.
This event reflects the values expressed in IIT's Diversity Statement and is intended to promote diversity at Illinois Tech.