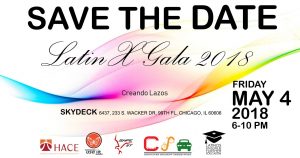 Latinos Involved in Further Education (LIFE) and the Hispanic Alliance for Career Enhancement (HACE) will host the Third Annual Illinois Tech Latinx Gala on Friday, May 4 from 6–10 p.m. at the Skydeck Chicago. The theme, Creando Lazos, emphasizes the importance of working together as a Latinx and Hispanic community to progress both within the university and on a professional level.
The event will include:
Networking with successful Latinx alumni
Celebration of the Latinx graduating class of 2018
A showcase of the Latinx organization's yearly accomplishments
Raising money for the Chapa and UMII scholarships
This event is open to Illinois Tech Latinx students and alumni. Register and purchase tickets here ($20 students, $40 others) or visit us on Facebook for more info.