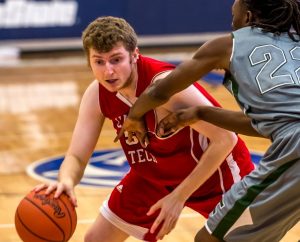 During halftime at the men's basketball game on Tuesday, February 20 against East-West University, the Scarlet Hawks will retire the jersey number of Samuel Rarick, the program's all-time leading scorer.
Rarick, who wore number 55 for all four of his seasons as a Scarlet Hawk, was a three-time USCAA All-American and ranks first all-time in scoring with 1,892 points. The Chicago native, who suited up for the Scarlet Hawks from the 2013–14 campaign through last season's USCAA Championship appearance, played a total of 97 games over his four seasons, ranking second all-time in rebounds (764), blocks (83), points per game (19.7), rebounds per game (8.0) and blocks per game (0.9). He is also the only player on record to have a career shooting percentage of over .500% (.533%) and holds the USCAA Tournament Record for most three-point field goals without a miss in a single game, making all four of his three-pointers (the only four he made all season) in Illinois Tech's 85-84 double overtime win over top-seeded Maine-Fort Kent.
After averaging 16.5 points and 7.5 rebounds as a freshman, Rarick averaged an astounding 27.8 points and 9.4 rebounds per game in his sophomore season, leading to a USCAA All-American Second Team selection. His next two seasons, which both featured averages of more than 16.0 points and 7.0 rebounds per game, also garnered USCAA All-American Second Team or Honorable Mention honors. Rarick was one of three players on last season's USCAA National Championship Qualifier that also was a member of the 2013–14 season, seeing a remarkable transformation from a winless program to a 23-win season in just four years.
Check out Rarick's career numbers below.
| | |
| --- | --- |
| Stat | All-time Illinois Tech Rank |
| Total Points | 1,892 (first) |
| Total Rebounds | 764 (second) |
| Total Blocks | 83 (second) |
| Points Per Game | 19.7 (second) |
| Rebounds Per Game | 8.0 (second) |
| Blocks Per Game | 0.9 (second) |
| Shooting Percentage | .533% (first) |
The February 20 game will also have live audio, video, and stats. The live audio will be powered by Illinois Media School.