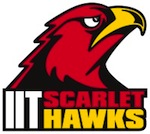 The Illinois Tech women's soccer team used two first half goals to edge visiting Aquinas College 2-1, at Stuart Field on Friday, August 27. Sophomore Jaimie Ward (Olathe, KS) led the way with assists on both Hawk goals.
Junior Emily Tilton (Naperville, IL) opened the scoring in the 23rd minute. Ward set her up for a one-time finish from just outside the box. Sophomore Lauren Capuano (St. Charles, MO) was on the receiving end of another assist from Ward in the 33rd minute as she fired home a shot to the far left post to make it 2-0.
Aquinas' Emily Wabich scored a goal with one minute remaining in the first half to close to within one point before the break.
The second half remained scoreless as the Hawks held the visitors to one shot during the period despite continued pressure. The Scarlet Hawks defense held Aquinas to six shots for the game with only one on goal. Illinois Tech registered ten shots for the game with seven on frame.
The Scarlet Hawks return to action on Wednesday, September 8, with a 6 pm home match against St. Ambrose College.