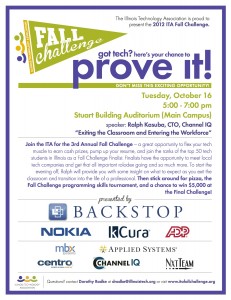 Join the Illinois Technology Association (ITA) for the 3rd Annual Fall Challenge — a great opportunity to flex your tech muscle to earn cash prizes, pump up your resume, and join the ranks of the top 50 tech students in Illinois as a Fall Challenge Finalist. Finalists have the opportunity to meet local tech companies and get that all important rolodex going and so much more.
Tuesday, October 16
5:00 – 7:00 pm
Stuart Building Auditorium (Main Campus)
Speaker: Ralph Kasuba, CTO, Channel IQ "Exiting the Classroom and Entering the Workforce"
To start the evening off, Ralph will provide you with some insight on what to expect as you exit the classroom and transition into the life of a professional. Then stick around for pizza, the Fall Challenge programming skills tournament, and a chance to win $5,000 at the Final Challenge!
Questions? Contact Dorothy Radke at dradke@illinoistech.org or visit the ITA Fall Challenge website.