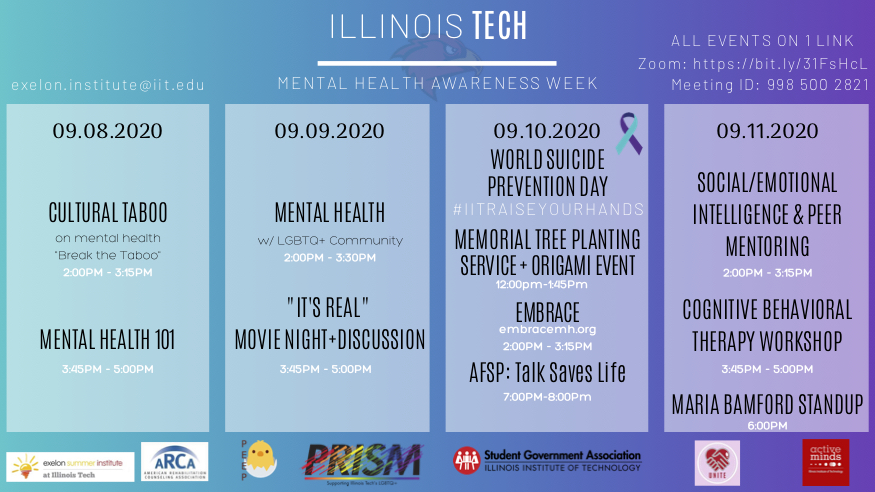 On the week of September 7, we encourage everyone to think about someone they love who is dealing with mental health issues. Please offer a moment of silence for all of the members of the Illinois Tech community who have died by suicide. According to a 2018 study by the National Center for Health Statistics (NCHS), suicide is the second leading cause of death for people between the ages of 18–24. 
The students of the Exelon Summer Institute along with the Peer Equity Education Program (PEEP), Unifying & Nurturing Individuals Through Empathy (UNITE), Prism, Active Minds, the American Rehabilitation Counseling Association (ARCA) and the Student Government Association (SGA), have organized the following online events to help our students cope with stress and be aware of the mental health resources available internally and externally at Illinois Tech. 
On Tuesday, September 8, Associate Professor Eun-Jeong Lee from the Department of Psychology will be leading a seminar on the cultural taboo surrounding mental health. That will be followed by a Mental Health 101 workshop led by clinical research associate Sang Qin.
On Wednesday, September 9, Dr. Marlaina Easton will be giving a presentation on Mental Health within the LGBTQ+ community. Representatives from Prism and PEEP will present and lead a Q &A session. This will be followed by the streaming of the documentary 'Its Real: College Students and Mental Health' created by the American Foundation for Suicide Prevention. The film features the mental health journeys of six college students from across the country. A facilitated discussion about mental health at Illinois Tech will follow the movie, and staff from our Student Health and Wellness Center will join the discussion.
On Thursday, September 10, we will be streaming a tree planting memorial service in front of Carr Memorial Chapel in honor of everyone who has passed away from suicide. Later that day, we will be joined by professionals from the organization Embrace Mental Health. Their mission is "to eliminate the stigma of mental illness by educating college-aged students about depression and suicide." More information about the work they do can be found here: embracemh.org.
On Friday, September 11, Dr. Joseph Orgel, Deputy Vice Provost for Strategic Initiatives and Student Success, will be presenting an interactive workshop on Peer Mentoring and Social and Emotional Intelligence. Later that afternoon, Dr. Gregory Chasson, Associate Professor of Psychology and Director of the Clinical Training Program, will be leading an interactive seminar about Cognitive Behavioral Therapy (CBT). He will be teaching students methods to help them combat negative and intrusive thoughts on a daily basis. He will encourage students to learn and practice new methods that lead to wellness. We will finish off the week with a stand-up act to help destigmatize mental health by comedian and actress Maria Bamford. Maria is a successful speaker, notably, her commencement speech for the University Of Minnesota was featured in Forbes And Teen Vogue. Patrick Fina, Director of Campus Life, made this session possible and it will be followed by Q&A and a student-led discussion. 
All of our lectures will be streamed live through Zoom with the following Meeting ID: 998 500 2821 or through this link: https://bit.ly/31FsHcL. You can also join us through discord to engage in discussion with the student community with the following link: https://discord.gg/qWpaRrK.
Our faculty advisor April Welch, Associate Vice President, Strategic Initiatives has this to say about the events of the week, "Just like physical health, your mental health is something everyone should take care of. We know talking about mental health can be uncomfortable or "cringey" but we want you to be courageous and do it anyway. How you feel in the moment is so important…everything we do… we do so we will be happy and bring happiness to others. If you think about why you are in college your inner dialog may go like this:
Q: Why am I studying so hard?
A: So I will get good grades, good recommendation letters, and a good job.
Q: Why do I want a good job?
A: So I can take care of my family and myself and live a good life and be happy.
When you dig for the deeper reason you get to 'So I will be happy, even happier than I am now.' Taking care of your mental and emotional health leads to joy in the moment while you are on your way to where you want to be. No matter how successful you are, life is a work in progress and we are always reaching for that next level of happiness. Joseph Campbell famously said 'Follow your Bliss.' So please join us, we want to help you find and follow your bliss and we want to break down the stigmas some associate with mental health. We want to encourage people to seek out their peers and professionals when they need someone to talk to. I am so proud of our students who have worked hard to bring this week to life, please join us and help us spread the word about the events lined up for the first Mental Health Awareness Week at Illinois Tech."
All individuals who attend the lectures will receive an exclusive t-shirt for Mental Health Awareness Week, while supplies last.  Buttons that say 'Talk To Me', stickers, and business cards with resources for help will also be distributed.
Furthermore, students will also be able to submit a positive or inspirational quote that will be written on the reserved glass windows of MTCC. Additionally, please join us on Twitter and Instagram by posting the hashtag #IITRaiseYourHands. Show a picture of yourself raising your hand with a positive quote or statement to show your support for mental health awareness. Using the hashtag will allow your posts to be shown on screens all across campus. Your posts will also be printed by our Photoboxx machine and will be able to be collected later in the week. 
The purpose of this week is to restructure the mental health conversation on campus and create a community that provides support to students, staff, and faculty. Please remember that talking about how you feel always helps. We look forward to seeing you this week!
If you are or anyone you know is going through hardships or having mental health issues, you can contact Student Health and Wellness to schedule an appointment at student.health@iit.edu. If you are experiencing suicidal thoughts or ideations, please do not hesitate to call the National Suicide Prevention Hotline at 1.800.273.8255.