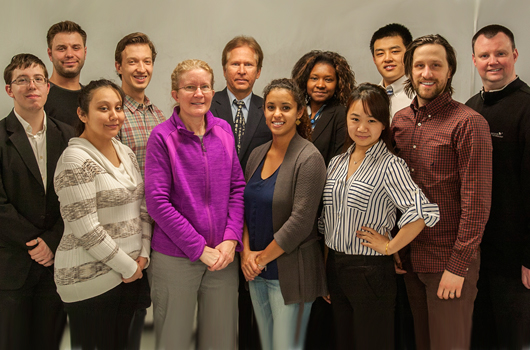 The National Electrical Contractors Association (NECA) Illinois Tech Student Chapter is competing in the 2016 Green Energy Challenge, sponsored by NECA and ELECTRI International. The competition is currently underway and finalists will be announced on Saturday, July 30, 2016.
For the competition, students were required to conduct an energy audit of a local school (K-12) and design an energy upgrade for the building. The group chose to focus on Illinois Institute of Technology's charter school, Perspective/IIT Math and Science Academy. The evaluation required the students to pick two rooms on opposite sides of the building for the assessment.
After multiple visits to the site the group noted several issues that need to be addressed. They researched potential solutions and recommended steps the school can take to reduce their energy needs in the short and long term. It was concluded that the windows should be replaced to reduce the amount of heat loss. Better fitting emergency doors with sweeps underneath should be installed in order to reduce the gaps between the doors and frames to keep the heat in the building. For the HVAC systems, it was recommended that a BAS/BIM system should be installed to offer building engineers more control of the system throughout the building.
As part of the competition, the team was to engage the K-12 students and utilize the competition as a teaching tool. Students at the school helped the Illinois Tech team collect measurements and audit the devices and light bulbs used at the school. The NECA-IIT group also showed the students how to use lumen meters to measure available light.
Teams that are announced as finalists in the competition on Saturday, July 30 will give oral presentations at the NECA Convention from Friday, October 7 through Monday, October 10, 2016 in Boston, Mass. All participating teams are invited to enter a poster summarizing their proposal for display at the convention. Posters will be judged by members of ELECTRI International.