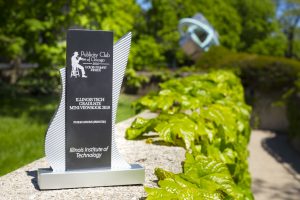 The Office of Marketing & Communications won a 2018 Silver Trumpet Award from the Publicity Club of Chicago for its development of the graduate mini-viewbook, in use since fall 2017.
The print piece—a collaboration with the Office of Graduate Admission, and written and designed exclusively in-house—is an abridged, economical mini-viewbook that was created to supplement materials that recruitment counselors give to prospective graduate students at college fairs. The purpose of the mini-viewbook was to provide a broad overview of Illinois Tech in order to enhance the university's visibility among these prospects, to convey the hallmarks of the university's brand, and to outline common interdisciplinary pathways about which students inquire. It is also available on the Graduate Admission website and is emailed to prospective students, providing expanded reach.
The Publicity Club of Chicago is one of the country's largest, independent public relations membership organizations. PCC Golden Trumpet Awards honor distinguished individual achievement in public relations and communications throughout the Midwest, with recipients spanning large multinational companies and nonprofits alike.
During the past decade, the Office of Marketing & Communications has won 20 Golden Trumpet Awards in multiple categories for excellence in publishing, marketing, events, and branding.