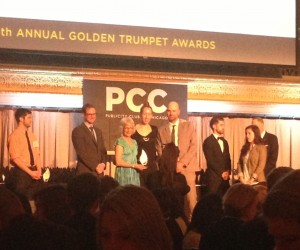 The IIT Office of Marketing and Communications was honored with two awards at the Publicity Club of Chicago's Golden Trumpet Awards banquet held on June 4 at the Palmer House Hilton. The annual award program recognizes distinguished achievement in the planning, creativity, and execution of public relations and communications initiatives.
The IIT Kaplan Institute Mood Book, a modernistic fundraising piece that artistically conveys the importance of and concept behind the university's planned innovation center, won a Golden Trumpet Award in the Brochures, Booklets, and Books Category.
The fall 2014 issue of IIT Magazine, the university's chief alumni publication, earned a Silver Trumpet Award. A variety of individuals from the IIT community lent their voices to the unique issue with its "Leaders Speak" theme.
M&C staff members wish to thank their colleagues who share info with them on great stories about IIT students, faculty, and alumni, and help them present the university to prospective students and the world with dynamic and engaging print/digital materials.