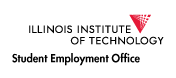 The Student Employment Office (SEO) is pleased to announce changes as well as introduce continued collaboration with Financial Aid in moving the Federal Work-Study program under Student Employment.
There will be new improvements to the processing of student employees as related to Student Payroll Authorizations and I-9 Paperwork. Improvements will launch in July 2016.*
Take a moment to review the following enhancements that these processes will provide the university, especially if you supervise students now, or plan to supervise student workers in the future. Our goal is a more unified and user-friendly Student Employment hiring process. Details and training documents will be available on the Student Employment website.
New Systems
EPAF – Electronic Payroll Authorization Form
Equifax – The electronic I-9 process
Highlights and major improvements include:
One university-wide system for all hires

Electronic hiring for all departments, replacing paper PA forms

Single sign-on hiring through your myIIT Portal

New student employees will complete their portion of the I-9 form online using

Equifax

software, eliminating the paper I-9 form

Document verification that provides accuracy

Search and reporting features (e.g., to locate incomplete or missing I-9s)
This change will affect all campuses that hire student employees: Mies/Main, Chicago-Kent College of Law, Institute of Design (ID), Rice Campus , Moffett Campus, and Stuart School of Business. The change will also affect all new student applicants.
Training
The Student Employment Office is developing training materials for staff, faculty and students alike. More communications are coming soon.
Welcome to Andrea Watkins
Andrea Watkins joined the Student Employment team under Student Access, Success, and Diversity Initiatives effective February 1, 2016. Watkins joined the Office of Financial Aid at Illinois Tech in 2014 and will continue in her role as associate director of the Federal Work-Study program. This decision reflects university efforts to build first-class professional work experiences for our students while they attend Illinois Tech.
Questions? Contact the following individuals.
Kathryn Potts, student employment specialist,

kpotts1@iit.edu

| 312.567.6802

Muqadas Munir, student services coordinator,

mmunir@iit.edu

| 312.567.5194

Andrea Watkins, associate director, Federal Work-Study Compliance,

awatkin3@iit.edu

| 312.567.7952

*For Chicago-Kent College of Law, if you are a hiring supervisor, have already been trained and are already using the electronic I-9 employee form and employer certification process for hiring new staff or faculty. You may also use this electronic process for your student hires. However, if you are a hiring supervisor for students only and have not yet been trained on the electronic I-9 processes, continue to use the paper process but only until the new electronic process is launched. If you have any questions, feel free to contact the Administration & Finance Office at 312.906.5100.