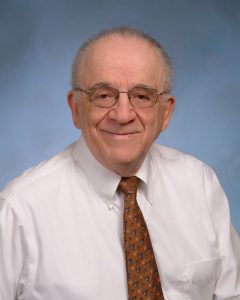 Nicholas T. Thomopoulos (87), a generous and loving man, passed on December 23, 2017. 
Beloved husband of 53 years to Elaine Cotsirilos Thomopoulos. Loving father of Marie (Mathieu) Sussman, Melina (Joseph) Collins, Diana (Mark) Patterson, Christopher Thomopoulos. Cherished grandfather (papou) to Lauren, Daniel and Jillian Sussman, Grace and Michael Collins, Christopher, Kayden and Jonah Patterson.  Beloved son of the late Nicholas and Marie (Avgoustinos) Thomopoulos. Adored brother of the late Marge (John) Faklis, Olga (Wayne) Bancroft, Katherine (Bernard) Hiles, Daniel (Namie) Thomopoulos. He was a devoted brother-in-law, uncle, cousin, and loyal friend to many. 
Nick was born in Chicago to parents who immigrated from Zakynthos, Greece. Nick was the youngest of seven children; two died while young from diphtheria (Christopher and Demetrios). When Nick was a baby, his father died leaving his mother, who could not speak English, with no other relatives in America.
Nick enjoyed growing up in the Greek immigrant neighborhood near Sheffield & Diversey during the Depression, where after attending public school, he went to Greek school at St. George Greek Orthodox Church five days a week. Stories of neighborhood life, as well as his accompanying his mother back to Greece after her 42-year separation from her three sisters and brother, are recounted in his memoir, 100 Years: From Greece to Chicago and Back.
Despite growing up poor, Nick had a childhood rich with tradition and filled with friendships that lasted a lifetime. The hardships of the family's early life built strong bonds that fostered a loving and supportive environment.  Nick found his greatest reward in his family.  He was dedicated to his wife Elaine. his children and grandchildren. Especially rewarding was the time he spent with them at their second home in Bridgman, Michigan.
Nick received a B.S. in business (1953) from the University of Illinois. He then served in the U.S. Army (1953 to 1955) rising to the rank of sergeant. Upon his return to Chicago, he received a MA in mathematics (1959) from the University of Illinois. While working full-time at International Harvester, he attended Illinois Institute of Technology at night and began teaching classes. In 1966, he received a Ph.D. in industrial engineering from Illinois Tech. 
Nick taught at Illinois Tech for 44 years and was a thesis adviser to 32 Ph.D. graduates. He retired in 2010 as professor emeritus of management science. He was a passionate teacher who took pride in the accomplishments of his students. His students marveled at his ability to go to the whiteboard and write down complex formulas for three hours without ever looking at his notes. 
Nick published over seventy papers in technical journals and in conference proceedings. He also was the author of eleven books as listed below:
Assembly Line Methods, co-author Ted Prenting, Hayden Press, 1974; Applied Forecasting Methods, Prentice Hall, 1980; Strategic Inventory Management and Planning, Hitchcock Publishing, 1990; 100 Years: From Greece to Chicago and Back, Xlibris, 2010; Fundamentals of Production, Inventory and the Supply Chain, Atlantic, 2011; Fundamental of Queuing Systems, Springer, 2012; Essentials of Monte Carlo Simulation, Springer, 2013; Assembly Line Planning and Control, Springer, 2014; Demand Forecasting for Inventory Control, Springer, 2015; Elements of Manufacturing, Distribution and Logistics, Springer, 2016; Statistical Distributions, Springer, 2017.
Nick received the Rist Prize from the Military Operations Research Society in 1972 for new developments in queuing theory; the Outstanding Teacher Award from Stuart School of Business in 1996; the Distinguished Professor Award from the Asian Illinois Tech Alumni in 2005; and the Outstanding Alumni Achievement Award from Illinois Tech in 2009. He was a member of the following honor societies: Sigma Xi (Scientific Honorary), Pi Mu Epsilon (Mathematics Honorary), Tau Beta Pi (Engineering Honorary) and Alpha Pi Mu (Industrial Engineering Honorary).
Nick developed new mathematical methods in the design of cotton-picker cams and agriculture plows; was a pioneer in formulating mixed-model assembly methods; conceived a way to measure airplane noise by the neighborhoods surrounding airports; created queuing methods to design radio communication systems for the U.S. Navy; and designed forecast and inventory software used by more than 100 companies worldwide. Nick was a consultant to companies in the U.S., Europe, and Asia, the inventor of the Gridiron Football Card Game, and founder of FIC, Inc. (Forecasting & Inventory Consultants, Inc.)
*Obituary written by Elaine Cotsirilos Thomopoulos, Nick's wife.