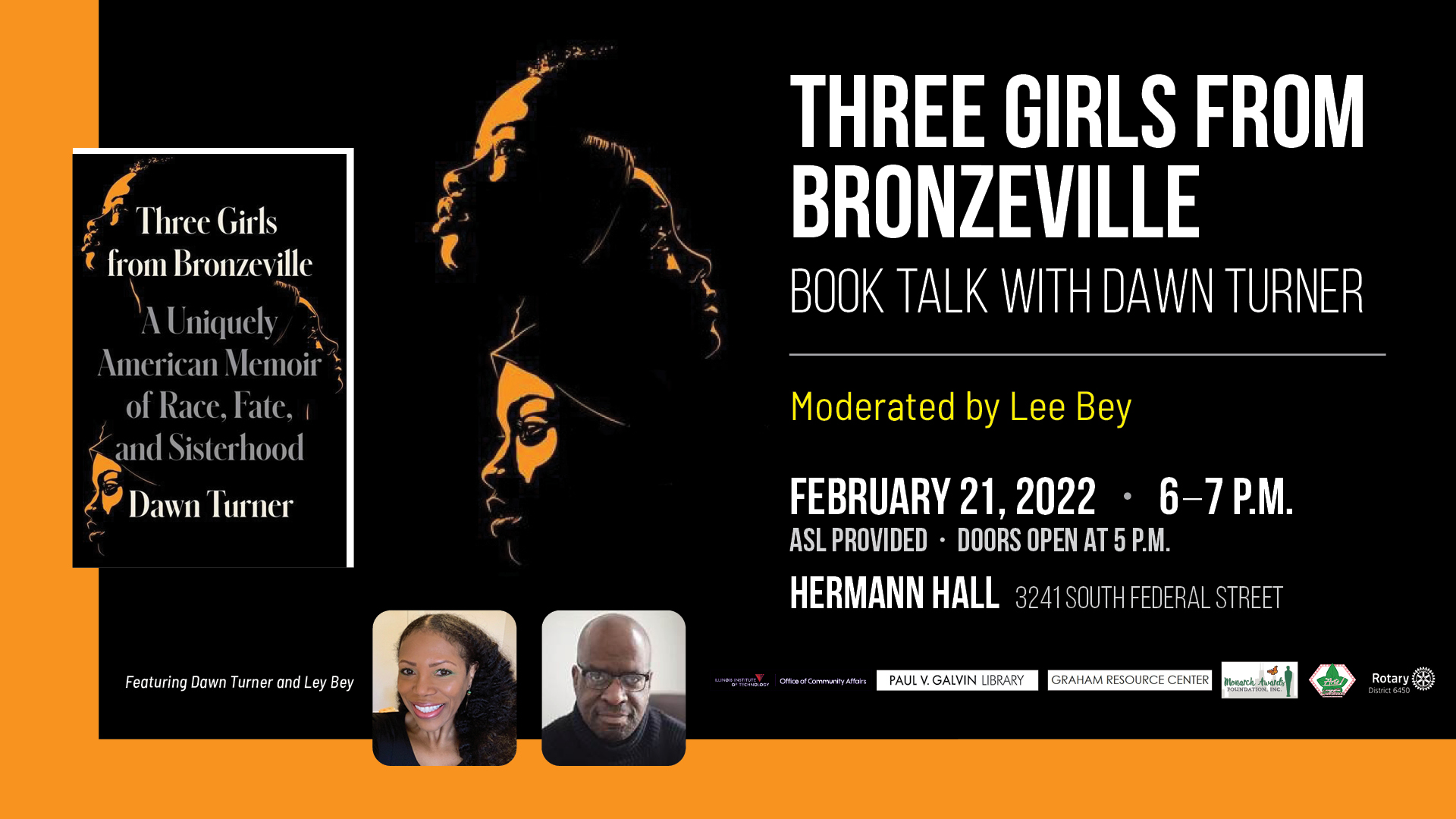 The Office of Community Affairs and Outreach will host a book talk with Dawn Turner, author of Three Girls from Bronzeville: A Uniquely American Memoir of Race, Fate, and Sisterhood. Adjunct professor Lee Bey will moderate the discussion on February 21, 2022, from 6–7 p.m. at Hermann Hall.
Register here to attend: https://www.eventbrite.com/e/a-conversation-with-author-dawn-turner-three-girls-from-bronzeville-tickets-228576617817
Three Girls from Bronzeville is a "beautiful, tragic, and inspiring" (Publishers Weekly, starred review) memoir about three Black girls from the storied Bronzeville section of Chicago that offers a penetrating exploration of race, opportunity, friendship, sisterhood, and the powerful forces at work that allow some to flourish…and others to falter.
Turner is an award-winning journalist and novelist. A former columnist and reporter for the Chicago Tribune, Turner spent a decade and a half writing about race, politics, and about people whose stories are often dismissed and ignored. Turner, who served as a 2017 and 2018 juror for the Pulitzer Prize in commentary, has written commentary for the Washington Post, PBS NewsHour, CBS Sunday Morning, National Public Radio's Morning Edition, Chicago Tonight, and elsewhere. In 2018 she served as a fellow and journalist-in-residence at the University of Chicago Institute of Politics. Turner is the author of two novels: Only Twice I've Wished for Heaven and An Eighth of August. In 2018 she established the Dawn M. Turner and Kim D. Turner Endowed Scholarship in Media at her alma mater, the University of Illinois at Urbana-Champaign.
Bey is a photographer, writer, lecturer, and consultant whose work deals in the documentation and interpretation of the built environment—and the often complex political, social, and racial forces that shape spaces and places. He is the author of Southern Exposure: The Overlooked Architecture of Chicago's South Side, a book that showcases his writing and photography.