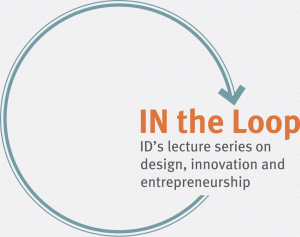 In the Loop is IIT Institute of Design's lecture series on design, innovation and entrepreneurship organized by Assistant Professor Laura Forlano in cooperation with the ID faculty. The series engages a wide range of speakers that present on topics from theoretical research and emerging methodologies relevant to the field of design, as well as personal narratives and examples from current design practice. Past topics have included presentations on design as a tool for provocation, ethnography about online communities, building stories from big data and finding your superpower. The lectures are open to the public.
All In the Loop events take place at IIT Institute of Design located at 350 N LaSalle, sixth floor, Chicago, 60654
RSVP to ID events here.
Tuesday, January 27, 12:30-2 p.m.
Libby Hemphill
Assistant professor of communication and information studies, IIT
What Would You Do with a Million Tweets?
Tuesday, February 10, 12:30-2 p.m.
Darcy Gassel
Business designer, Business Models Inc.
Business Model Design and Innovation
Tuesday, February 17, 12:30-2 p.m.
Silvia Lindtner
Assistant professor, University of Michigan School of Information
Hacking with Chinese Characteristics: The Making of a Powerful Vision of Change
Thursday, February 19, 6 p.m.
Jeffrey Bardzell
Associate professor of HCI/design, School of Informatics and Computing at Indiana University
Design as Inquiry
Tuesday, February 25, 12:30-2 p.m.
Mél Hogan
Assistant professor of communication, IIT Humanities
The Archive as Dumpster
Tuesday, March 31, 12:30-2 p.m.
Lauren Serota
Creative director, design researcher, and interaction designer, independently and with Studio D Radiodurans
Post-design: Finding the Beauty in the Invisible and the Changing Role of the Designer
Tuesday, April 7, 12:30-2 p.m.
Peter Nicholson
Sustainability-focused designer and innovator, Foresight Design Initiative and Foresight Bright, LLC
Topic TBD
Wednesday, April 15, 12:30-2 p.m.
Christine Greenhow
Assistant professor, Michigan State University College of Education
Topic TBD
Get updates on IIT Institute of Design "In the Loop" events for information on new talks each week discussing design, innovation and entrepreneurship. Send an email with Subscribe in the subject line to intheloop@id.iit.edu.