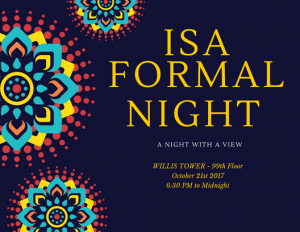 Illinois Tech's Indian Student Association (ISA) will host its Formal Night on Saturday, October 21 from 6:30 p.m.–midnight at the Willis Tower Skydeck. Enjoy music, dancing, and Indian cuisine.
Tickets can be purchased through Friday, October 20 from 1–6 p.m. in The Bog in Hermann Hall. You must have your A# to purchase tickets.

Please read the following instructions regarding ticket sales:
Illinois Tech students – $20, non-Illinois Tech students and alumni- $40
There are only 250 tickets available
Only an Illinois Tech student can purchase one additional ticket for his/her guest
Guests can be either an Illinois Tech student or alumni
Alumni cannot purchase a ticket for themselves
Tickets are non-refundable and non-transferable
If you wish to transfer your tickets, you have to visit the Office of Campus Life in the McCormick Tribune Campus Center (MTCC)
Attendees must bring a photo ID (State ID, Driver's License, Passport) to the formal to gain entrance. You will not be permitted to attend the formal without a valid photo ID.