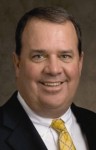 F. Quinn Stepan, Jr., president and CEO of Stepan Company, will be honored as INTM's "Outstanding Leader in Industry" at the 18th annual Awards Dinner on Friday, April 26, 2013. INTM is honoring Stepan for his professional achievements, progressive leadership, and focus on growth through innovation and sustainable operations in industry.
Industry professionals, alumni, faculty, students and friends are invited to applaud the accomplishments of Stepan and the MITO and BINTM graduates of 2012. This event also serves to raise much-needed funds for the McKee Scholarship for INTM students.
Quinn Stepan will speak at the event about "Your Path to Success," drawing on experience from his highly successful career. Stepan Company is a leading producer of specialty and intermediate chemicals used in household, industrial, personal care, agricultural, food and insulation related products, headquartered in Northfield, IL.
Quinn is the son of F. Quinn Stepan, Chairman of the Board of Stepan Company, and grandson of the founder, Alfred C. Stepan, Jr. He joined Stepan Company in 1987, as business manager for industrial and institutional products after working four years for Monsanto. In 1992 he was promoted to director of business management and assumed marketing responsibility for all surfactant commercial accounts. In 1996 he was named vice president of global laundry and cleaning products and in 1997 was elected as vice president and general manager for surfactants. From 1999 – 2005 Stepan served as president and COO.
Stepan received a B.A. in economics from the University of Notre Dame in 1982, and an M.B.A. from the University of Chicago in 1988. He is a past director of the Follett Corporation, Consumer Specialty Products Association, American Cleaning Institute, and the American Chemical Council.
His growth strategy for Stepan has helped the company maintain its role as a significant player in the global supply chain for many important industries. Stepan recently reported its fifth consecutive record income year.
Quinn guided Stepan as it extended its core technology platforms to emerging markets, and improved its product mix through innovation. Stepan's strategy includes investing in emerging markets such as Brazil, Singapore, Eastern Europe, and China, focusing on innovative research and development, and acquisitions.
The awards dinner will be held at Maggiano's Little Italy in Chicago. A reception begins at 6:00, with dinner at 7:15 p.m. RSVP by April 19. Questions? Visit the INTM events page or call Cindy Spoor 312.567.3652.