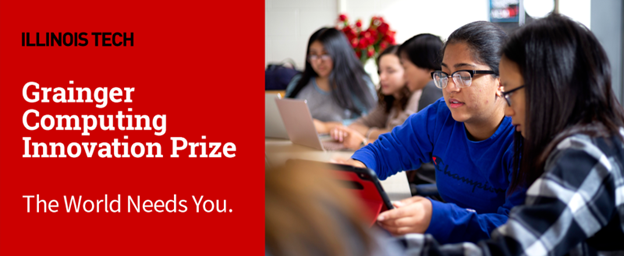 Sign up to attend an information session for the Grainger Computing Innovation Prize on Monday, April 17, 2023, at 12:45–1:45 p.m. in the Hermann Hall Ballroom.
There will be an opportunity to ask questions, mingle with other students and mentors, and form teams for the competition. Lunch will be provided for those who register in advance.
Sign up to attend the event using this link (by Friday, April 14).
About the Grainger Computing Innovation Prize:
The 3rd Annual Grainger Computing Innovation Prize calls on Illinois Tech students across campus to develop creative technology solutions to the most challenging problems facing our society today. The "Computing with Data and AI for Social Good" theme for the 2023 competition aims to tackle real-world problems in education, health, energy, public safety, transportation, economic development, sustainable smart infrastructure, and climate change.
Students are encouraged, through interdisciplinary teams, to leverage their skills in computing, big data, data science, and artificial intelligence toward creative and impactful uses of technology to improve the world. Successful entries must include some aspect of computing and demonstrate the work's potential societal impact. We encourage teams this year to interface with new generative AI technologies to take their projects to the next level.
The competition will take place over the Fall 2023 semester.
Tackle these challenging problems to win your share of a total of $30,000 in prizes:
1st Place Team: $15,000
2nd Place Team: $10,000
3rd Place Team: $5,000
The Grainger Computing Innovation Prize was established through a generous endowed gift from The Grainger Foundation, an independent, private foundation based in Lake Forest, Illinois, that provides substantive support to a broad range of organizations, including educational, medical, cultural, and human services institutions.
If you have any questions about the Grainger Computing Innovation Prize competition please contact graingerprize@iit.edu.