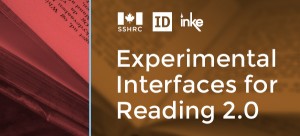 The surface has only been scratched of how to help people read and make use of digital documents. The INKE ID Conference, hosted by IIT Institute of Design, begins with a panel event at 7 p.m. on Thursday, September 18 and ends at 5:45 p.m. on Saturday, September 20, 2014. Participants will meet thought leaders focusing on experimental human-computer interfaces that have been designed and prototyped for use with digital texts, images, and other media.
Most think of "reading" as novels in bed, textbooks in school, or newspapers scanned over coffee. In fact, people read in dozens of information formats and media, from public signage to menus to emails, blogs, text messages, and twitter. And the electronic book is a normal part of many people's lives.
A panel on the future of reading will kick off the event on September 18, 2014. Tickets are available for the full conference and for the panel only. IIT Institute of Design is located at 350 North LaSalle Street, Chicago.
Get more information and register here.