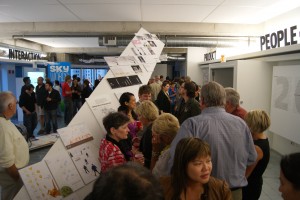 Emilia Klimiuk, who graduated this month with a Master of Design from IIT Institute of Design (ID), joins MAYA Design in Pittsburgh as their newest visual designer. She will not only have 75 years of innovation and groundbreaking design education to call on, but also the self-confidence and poise to be successful.
"When I was little, my dad taught me how to swim by picking me up by my swimsuit and throwing me into the deep end of the pool," she said. "At the Institute of Design, we get a similar training. We have no fear. We are all well equipped to deal with complexity, ambiguity and project politics."
Klimiuk was one of more than 100 students and faculty from ID who showcased a diverse selection of work to nearly 200 guests on Friday, May 11, at the school's annual End of Year Show, which also celebrated ID's 75th anniversary as the New Bauhaus.
Klimiuk's product design class project "Folio," offering urban dwellers a system that simplifies tool storage for home improvement projects, was one of more than 75 featured in the comprehensive show that also presented a retrospective look on the school's past innovations.
"What we do at the Institute of Design is still poorly understood by the larger design community," Klimiuk said. "The End of the Year Show gives us an opportunity to create a dialogue, and, through our work, promote strategic thinking and user-centered design."
For alumna Apeksha Garga (MDes '10), the design education she received at ID has helped her succeed in her work as a design researcher for IDEO, a design innovation and consulting firm in Palo Alto, CA. Apeksha came to Chicago to attend the ID Strategy Conference, which took place during the same week at Chicago's Spertus Institute, and was excited to catch the End of Year Show too.
"I saw a sneak peek of the student work on ID's Facebook page, and I was intrigued. I knew it was going to be special, and I just had to see it," Garga said. "There's actual interaction here, and that's what differentiates ID from other schools. I'm a design researcher at IDEO, and basically what they preach and practice is exactly what I learned at ID."
The show was divided into three parts that included large installations of the "Knowledge Box," the "Concept Loop" and the "Future Design Experience." The historical Knowledge Box, originally designed by Ken Isaacs in 1962 for an ID class project, was resurrected into a 121-square-foot, wood-framed cube that was powered by 24 slide projectors. Guests entered it to view sequences of imagery, words and patterns splashed across every surface.
Current research was displayed on the 50-foot-long Concept Loop, designed by ID Visiting Associate Professor Martin Thaler and Brian Strawn (MDes '12). The "Future Design Experience," created by students Russell Flench, Helen Wills and Navroze Godrej, was a maze-like structure that guests walked through to see how ID students are thinking about design.
"We tried to portray the work done at the Institute of Design in 2012 in a celebratory, dynamic and exploratory environment," Thaler said. "You encountered the work, not just viewed it. It's a little uncomfortable, challenging, engaging and energizing. That's what good design should do."
Alumnus Peter Wachter (BS '82) pointed out that the new works along with the historic Knowledge Box provided a thoughtful perspective. "I'm very impressed and very glad to say that after 40 years, we're still seeing fresh work, fresh aspirations," he said.
When Wachter was a student, he had the opportunity to know Ken Isaacs. "At the time, this was sensational," he said. "It's important to have a historical context for where things were and where they came from, so that we can understand why we do what we do."
New designers featured in the show seek to make waves of their own with everything from water and labor-saving washing machines for rural villages in India to virtual communities nurturing and harvesting local fruit trees.
Douglas Radecki and team members Alison Tisza, Diego Bernardo, and Jared Bryll built a virtual platform that connects the non-profit organization Not Far From the Tree with fruit tree owners. The system is able to map fruit trees in urban sites according to information provided by owners at the time of registering their trees. Participants can search for fruit trees and subscribe to a tree in their area. The student team calls it "Urban Jar."
"We wanted to provide participants a safe environment for networking with people, sharing stories and products, and getting more involved with urban agriculture," Radecki said.
The show also included works such as "Sky Words," a playful, interactive installation that was in Chicago's City Hall this spring allowing visitors to express their personal vision for the city's future, and the TidyTilt, a multi-functional panel for the iPhone designed by students. The project raised over $220,000 on kickstarter.com and is now being produced and sold online.
The exhibit's diversity presented a unique look at the wide range of experience the school has to offer, according to Patricia Wang, current student and part of the graphic design team for the show.
"Given that we are celebrating the 75th anniversary of our school, we decided that this year's show should pay homage to our Bauhaus roots while still showcasing the breadth of work we've completed here at the Institute of Design," Wang said. "The Institute of Design is uniquely special in that people of all design disciplines come to work together to create something – a business proposition, a concept, a platform – that is far greater than any one communication, product, or interaction a designer could create by him or herself to serve both users and client. As a result, we captured that collaborative magic in our show this year by exhibiting both team-based and individual projects."
"In a nod to our historical background, this exhibition was an experiment," Wang added. "Typically, nuanced complex concepts are best articulated in a live presentation or a long report, which can quickly lead to a static audience experience. This year, we wanted to challenge ourselves by presenting our work, still under the constraints of what would be considered an exhibition, but in a much more delightful, unexpected way that the audience could participate in."
That message resonated with industrial designer Matt Holter, whose interest in pursuing a master's at ID brought him to the show to see what students are learning.
"There's a lot of information here that shows why people do what they do," Holter said. "Everyone has a different opinion about how to interpret product design, for instance. As a designer, you have to have a lot of clever ideas as well, and it's great to see all these divergent ideas, unique and original to the problem they're trying to solve. This is a great show."