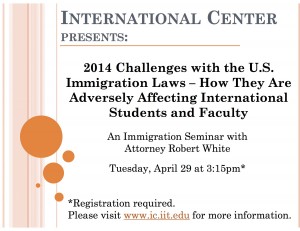 International Center presents: 2014 Challenges with the U.S. Immigration Laws – How They Are Adversely Affecting International Students and Faculty with Attorney Robert White on Tuesday, April 29 from 3:15-4:30 pm, Stuart Building Room 111.
With the H-1B quota being met in one day and significant delays in green card processing, international students and faculty are being confronted by new and increasingly difficult obstacles when managing their U.S. immigration status. This seminar will discuss and review these numerous obstacles and provide recommendations about how to successfully overcome them.
Registration required. Visit the International Center website for more information.