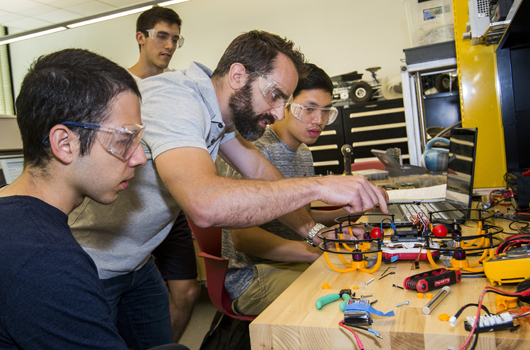 A cohort of over 230 undergraduate students from the Brazilian Scientific Mobility Program (BSMP) and Institute of International Education (IIE) Global Experience and Training (GET) Program were accepted into the 2016 Engineering Undergraduate Summer Research Immersion Program at Armour College of Engineering. The program offered experiential learning through faculty mentored research and practical engineering training as part of Armour R&D, the distinctive and comprehensive research and development program for undergraduates at Armour College of Engineering.
Over the course of ten weeks, the students worked under the guidance of engineering faculty and researchers on 67 unique engineering projects. Opportunities were offered in areas of global importance including: biomedical engineering and health technology; civil and construction engineering R&D; energy, transportation, and sustainability R&D; facilities, operations, and project management; hardware, software, and communications R&D; materials R&D; and water and environmental R&D. During the program, students were able to utilize all facilities at the university including state-of-the-art engineering research laboratories, instructional laboratories and facilities, fabrication and design studios, and the campus at large to complete their projects.
The program culminated at the 2016 Armour R&D Expo for Participants of the Engineering Undergraduate Summer Research Immersion Program held on July 7 in The McCormick Tribune Campus Center. During the expo, students showcased their research projects to Armour faculty and alumni, Illinois Institute of Technology administration, industry partners, members of the Brazilian Consulate of Chicago, and representatives from IIE.
See photos of the students working in the lab and presenting at the expo.