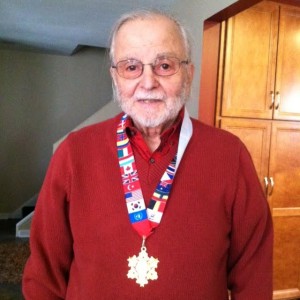 Congratulations to Jerry Field, EdD, an adjunct member in the Industrial Technology and Management Program (INTM), who was recently awarded a Gold Medal from the United States Department of Defense for his service as a member of the 60th Anniversary of the Korean War Commemoration Committee.
As a Committee member, Field spent more than two years helping to create and promote activities to honor the service and sacrifice of Korean War Veterans, commemorate the key events of the war, and educate Americans of all ages about the historical significance of the Korean War. His medal inscription reads "in appreciation of your dedicated service during the Korean War."
Field's military service led to his career in education. He started as a Field Instructor for the Army Field Forces Training Command and was promoted to become a Curriculum Developer. He was one of the founders of the INTM Program, working with Dr. Keith McKee to develop transfer guidelines for students with some technical training and education. In addition to teaching for INTM, he has taught "American Battle Strategy" for the Army ROTC, and remains dedicated to the U.S. Army and the Department of Defense. In 2012, he was awarded a "coin of appreciation" from the Consul General of Korea in Washington, D.C. at a memorial ceremony at Arlington National Cemetery. He was also the Veterans Representative at the opening of a special exhibit of images and memorabilia marking the 60th anniversary of the Korean War Armistice at the Skokie History Museum in June, 2013.
JField Army Medal Fall '13.jpg (42 KB)