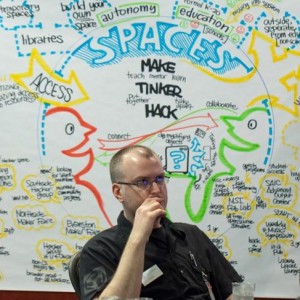 Dan Meyer (INTM '06) is living out his passion in ways that he did not foresee when he completed an A.A.S. in manufacturing technology at Prairie State Community College in 1993. Today, he is manager of the Wanger Family Fab Lab at the Museum of Science and Industry (MSI), where he started working in 2011.
Meyer spends his days at the Fab Lab leading and supporting a team of staff and volunteers who provide hands-on digital design and fabrication experiences for high school students and MSI visitors. He also participates in activities of the International Fab Lab Network and local "maker" communities in the Chicago area. In his spare time, he tinkers with bicycles, computers, tools, and machines for digitally designing and fabricating radio-controlled aircraft and other objects.
Meyer recently decided that he wanted to share his passion for making things with his fellow alumni, students, INTM faculty, and staff, and members of their families by offering workshops in Laser Cutting and 3-D Printing at the Fab Lab, exclusively for them. On a Saturday in October, a group of individuals affiliated with INTM got the chance to learn how to design and cut their own plastic key chains, and print 3-D polymer models of their own heads using one of the lab's two 3-D printers.
Following the workshops, the INTM guests had the opportunity to hear from Meyer about the latest trends in digital technology that are enabling individuals to create and print their own items ranging from small objects to whole houses, and even building their own printing equipment out of spare parts and large manufacturing scraps. Meyer also spoke about how he has advanced his own career, moving around the shop floor in his first job as a machinist, welder, and technician. Eventually, he realized that he wanted a career that involved making things on his own terms. He enrolled in the INTM program to add the management skills he needed to make that happen. After receiving his Bachelor in Industrial Technology and Management he became a design engineer, professional researcher, and educator with the North American Die Casting Association prior to joining MSI.
A current INTM student brought his sister, who is a senior in high school and is applying to various colleges, to the event. She was interested in business but has had some exposure to traditional manufacturing. She was amazed at the possibilities for using new technologies to improve the business of manufacturing. To find out more about the Fab Lab, and how to get involved in a variety of local "maker" activities, visit the MSI website.