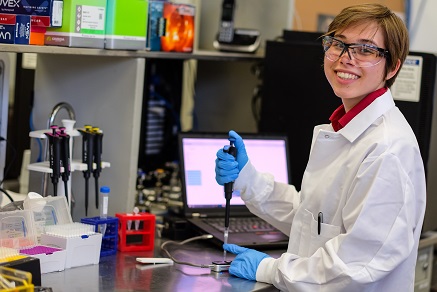 Iva Veseli (B.S. BIOL/M.S. CS 5th year) has been awarded a National Science Foundation (NSF) Graduate Research Fellowship Program (GRFP) award to pursue her Ph.D. in the biophysical sciences at the University of Chicago. The GRFP covers expenses for three years of a five-year fellowship period – a $34,000 annual stipend plus a $12,000 cost-of-education allowance. Veseli was one of 2,000 awardees nationwide, chosen from a pool of 12,000 applicants.
The GRFP program recruits high-potential, early-career scientists and engineers and supports their graduate research training in science, technology, engineering, and mathematics (STEM) fields.
"Iva has the perfect combination of intellect, curiosity, perseverance, and ethics to succeed in research," said her mentor, Jean-François Pombert, assistant professor of biology. He recalled that at the 2017 American Society for Microbiology (ASM) meeting in New Orleans, many of his fellow principal investigators praised Veseli's work and thought she was a postdoc. "The look of disbelief on their faces when learning that Iva was an undergraduate was priceless," he said. "Yes, she is that good."
Veseli, who is from Oswego, Illinois., is a Camras Scholar, has a 4.0 grade point average, and has been on the dean's list every semester of her Illinois Tech career. Veseli has been developing interdisciplinary experience in biology and computer science to pursue a career in bioinformatics research. She has conducted research in genomics and computational biology with Pombert since the second semester of her freshman year, with her projects focusing on comparative genomics of bacterial genomes—specifically, Vitreoscilla and Neisseria species. She also has helped to write Perl scripts that assist with data analysis. She received the College of Science Undergraduate Summer Research Stipend in 2015 and the ASM Undergraduate Research Fellowship in 2016, and in 2017, she worked as an undergraduate research assistant on a National Institutes of Health (NIH) grant for Pombert.
She has been a computer science teaching assistant since 2015 for the courses Introduction to Object-Oriented Programming I (CS115, Java) and Introduction to Computer Programming (CS105, C++), and she received the Teaching Assistant of the Year Award in 2016.
She also was a summer program tutor for Chicago HOPES for Kids, a nonprofit that provides educational enrichment activities in literacy, nutrition, math, science, and the arts. In her spare time, she enjoys rock climbing, books, video games, and travel.