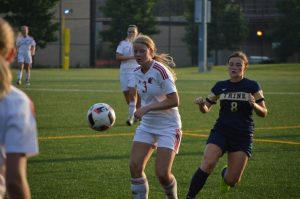 The Illinois Tech Women's Soccer team hosted North Park University on October 16. After a slow offensive start for both teams, the scoring ramped up in the second half, resulting in a 4-1 win for the Scarlet Hawks.
How it Happened
While North Park outshot the Scarlet Hawks 11-6 in the first half, both teams had chances to score. Elizabeth Bremer was key for Illinois Tech, making six saves in net to keep the Vikings scoreless in the first 45 minutes.
Erin James put Illinois Tech ahead with just three minutes left in the first half, taking the ball away from North Park in the goalie box to set up an easy look. Illinois Tech had another chance with a Julia Taliana breakaway with one minute remaining, but NPU keeper Sydney Martinez made a diving save, leading to the 1-0 halftime score.
Some halftime adjustments for Illinois Tech paid off, as the Hawks rattled off four shot attempts in the half's first five minutes. One of those shots found the back of the net, as Katie Hoefgen scored her 11th goal of the season on a perfect Taliana cross from the right side.
The Scarlet Hawk defense was strong all night, making a few plays to erase point-blank chances. Kaitlin Weishaar, Madison Harris, and Alysia DeSimone all made specific heads-up plays in front of the net over the course of the match.
Taliana and Hoefgen connected again for the team's third tally. The freshman led the junior down the right side of the field to set up a perfect one-on-one chance, which she converted for her second goal of the match with 12 minutes to play.
North Park got on the board with 10 minutes to go on a long goal from about 35 yards out. However, James responded less than two minutes later with her second goal of the match, courtesy of Hoefgen, to give the Scarlet Hawks a 4-1 lead, which held for the final score.
Scarlet Hawk Standouts
James had her first multi-goal game of her collegiate career. The freshman scored twice on three total shots.
Hoefgen had two goals, an assist, and team-highs in shots (four) and shots on goal (three).
Taliana tallied two assists.
Bremer finished with eight saves in net.
Stats to Know
Illinois Tech won despite being outshot 20-15 by the Vikings.
The Scarlet Hawks were able to hold a lead in large part to the saves category, as Illinois Tech ended with an 8-3 advantage.
Illinois Tech is now 4-1 in the month of October and 6-9-1 overall. North Park fell to 6-8-1 in the loss.
Up Next
Illinois Tech is at home on Thursday, October 19 to host University of Chicago. The Maroons are ranked number one of all of NCAA Division III in the latest United Soccer Coaches poll.