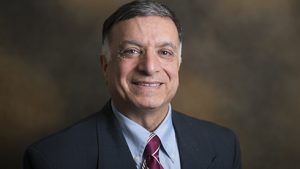 Provost and Senior Vice President for Academic Affairs Peter Kilpatrick is pleased to announce that Professor Jamshid Mohammadi will be the new dean of the Graduate College and vice provost for Graduate Academic Affairs, his latest roles in a 40-year career at Illinois Tech.
Mohammadi is a familiar face in the Illinois Tech community. He is currently the associate dean for the Graduate College and a professor of civil and architectural engineering. He will begin his new role on August 1, 2019.
For many, no introductions are needed. For those who don't know him, Mohammadi is a dedicated educator and an accomplished expert in his field. He started his career at Illinois Tech in 1979 as an assistant professor of civil engineering. For 14 years he was the chairman of the Department of Civil, Architectural, and Environmental Engineering. During his tenure he was successful in receiving Accreditation Board for Engineering and Technology (ABET) accreditation for the first time for the architectural engineering program.