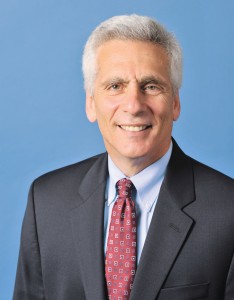 Jared Bernstein, former chief economist and economic adviser to Vice President Joseph Biden, will deliver IIT Chicago-Kent College of Law's 36th annual Kenneth M. Piper Lecture from 11:30 a.m. to 1 p.m. on Tuesday, April 8 in IIT Chicago-Kent's Governor Richard B. Ogilvie Auditorium located at the Downtown Campus. Bernstein will address the topic "The Post-Recession Economy: A Return to … What?" The lecture is free and open to the public.
Bernstein currently is a senior fellow at the Center on Budget and Policy Priorities. He served as chief economist and economic adviser to Vice President Biden, executive director of the White House Task Force on the Middle Class, and a member of President Obama's economic team from 2009 to 2011. Prior to joining the Obama administration, he was a senior economist and the director of the Living Standards Program at the Economic Policy Institute in Washington, D.C. Bernstein held the post of deputy chief economist at the U.S. Department of Labor during the Clinton administration.
Bernstein's lecture will consider issues related to the post-recession economy and workplace and answer several questions. What roles are technology, globalization, inequality, and fiscal policy likely to play in shaping economic outcomes facing workers at different positions in the wage scale? Is labor-saving technology accelerating in new ways that will displace ever more workers, particularly in factories? Why is it taking so long to get back to full employment? Will revived financial markets stay "on the rails"?
Mary Joyce Carlson, a labor and employment attorney practicing in Washington, D.C., and General Motors' chief economist, G. Mustafa Mohatarem, will comment on Bernstein's remarks from employee and management perspectives.
No reservations are required to attend the Piper Lecture. Attorneys who attend are eligible for 1.25 hours of Illinois Minimum Continuing Legal Education credit. Visit for more information or call 312.906.5090.
The annual Kenneth M. Piper Lecture is sponsored by Chicago-Kent's Institute for Law and the Workplace. It is presented by the Kenneth M. Piper Endowment, which was established by a gift from Mrs. Kenneth M. Piper in memory of her husband. He was a distinguished executive with Motorola Inc. and Bausch & Lomb Inc., who made important contributions in human resources and labor relations for more than two decades.