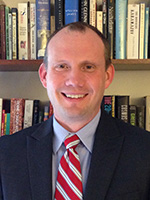 Jess Goode has been appointed as the new vice president for external affairs at Illinois Tech. His first day at the university will be Monday, November 7 and he will oversee the offices of Marketing and Communications, Community Affairs and Outreach, and External Affairs.
Goode has more than 20 years of experience in strategic communications, marketing, and government. He has led successful communications campaigns at the federal and state levels and has been a senior government official in a congressional office and in state government.
In 1996 Goode began his career as a press secretary in a top-targeted congressional race and continued as a press secretary on Capitol Hill until 2001. In addition to working on transportation and health care initiatives for Ohio's 6th Congressional District, he led a communications strategy to help establish a compensation program for Department of Energy workers made ill by exposure to radioactive and other dangerous materials. He later became district director for Congressman Ted Strickland and was responsible for representing Strickland in Ohio and for managing four congressional district offices.
In 2003 Goode was asked to be the communications director for America Coming Together in Ohio, a political advocacy organization that canvassed more than 3.7 million households and registered tens of thousands of new voters for the 2004 presidential election. In 2005 he became the communications director for Strickland's run for Ohio governor, leading a multimillion-dollar media campaign that helped elect Strickland by a 23-point margin. Goode next served as communications director for Governor Strickland, overseeing the governor's press staff as well as communications and marketing for 23 state agencies and departments. As the governor's communications director, Goode drove communications efforts that helped pass two state budgets, extensive higher-education reform, and a $1.57 billion economic stimulus package.
After the governor's office, Goode began a doctoral program in political science at The Ohio State University, focusing on public opinion, political psychology, and political communication. More recently, he was an associate consultant for Gallup, helping large organizations better engage customers and employees through survey research and data analytics. Goode has a bachelor's degree in journalism from the E. W. Scripps School of Journalism at Ohio University, and a master's degree and Ph.D. in political science from Ohio State.