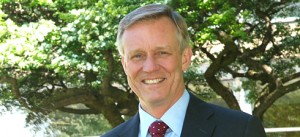 John L. Anderson announced his intention to resign as president of Illinois Institute of Technology as of August 1, 2015. He plans to remain at the university as a professor of chemical engineering.
Anderson has been president of Illinois Tech since 2007. Previously, he was provost and executive vice president at Case Western Reserve University and dean of engineering at Carnegie Mellon University.
"It has been a privilege and an honor to be president of one of this country's finest research universities," said Anderson. "Illinois Tech has long been known for its technology-focus, the scholarship of its faculty, and the exceptional educational experience we offer in engineering, architecture, science, law, design, human sciences, business, and applied technology. But I am equally proud that our university continues to attract students, many from economically underprivileged backgrounds, who have a creative mindset, a passion for innovation, and an entrepreneurial spirit. It has indeed been an exciting time to have served as president of this great institution."
Bud Wendorf, chairman of IIT's Board of Trustees, said that the search for a new president would begin immediately. "Replacing John Anderson won't be easy," said Wendorf. "He helped bring fiscal stability back to the university while simultaneously insisting upon an upward trajectory of academic excellence. The trustees owe him a debt of gratitude for his stewardship of our institution during challenging times and thank him for his leadership."
Under Anderson, the school continued its legacy of offering students from around the world a rigorous academic curriculum. Enrollment increased substantially and students from more than 100 countries are now represented on campus. Fall 2013 total enrollment (7,850) was the largest since 1950—and full-time undergraduate enrollment (2,712) was the highest it has been since 1982. Fifteen new endowed professorships were added during his presidency. The University's fundraising campaign, aptly titled Fueling Innovation, was launched in 2010 and more than $170 million has already been raised to support endowed professorships, scholarships, and new academic facilities, including the planned Ed Kaplan Family Institute for Innovation and Tech Entrepreneurship.
According to John Rowe, IIT Regent, former chairman of the university's Board of Trustees, and retired chairman of Exelon, Anderson was the right man at the right time for the university. "When we interviewed John, we knew we had found someone who could do the impossible—keep the budget balanced, grow the student body, increase the endowment, never compromise on academic excellence, and remind alumni that the school's best days are still ahead of it," said Rowe. "And boy did he deliver for us."
Anderson, a member of the National Academy of Engineering, holds a Ph.D. in Chemical Engineering from the University of Illinois at Urbana-Champaign and a Bachelor of Chemical Engineering from the University of Delaware. His wife Pat is president of the ARCS Foundation of Illinois, an organization that supports STEM scholars at IIT, University of Chicago, Loyola University, University of Illinois (Urbana-Champaign), and Northwestern University.