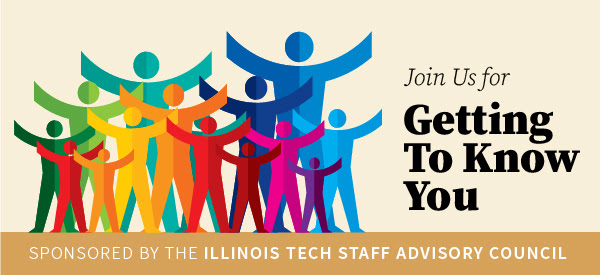 Join us to Get To Know Chicago-Kent College of Law through an informational session hosted by the Staff Advisory Council on Friday, February 25, 2022 at 1 p.m.
The Staff Advisory Council is happy to highlight the Chicago-Kent College of Law in our Getting To Know You series. This brief presentation will be tailored to staff members at large and will highlight parts of Chicago-Kent that are unique. We will learn about Chicago-Kent's unique in-house legal clinics, pro bono opportunities C-K provides, and other things that make C-K a great place to work and learn. This informational and fun event will provide the opportunity for you to network, learn, and test your university trivia knowledge. We will welcome Chicago-Kent speakers, Maurice Willis, Director of Engagement; Tracy Kish, Law Office Administrator; Michelle Vodenik, Senior Director, Public Interest Law & Pro Bono Initiatives; and Emily Barney, Digital Education and Internal Research Librarian.Please add this event to your calendar by clicking
here
, then join us online via your web browser at 1 p.m. on Friday, February 25, 2022,
here
. Are you interested in being a part of the Staff Advisory Council? Elections are coming up, so watch Illinois Tech Today posts for your chance to nominate yourself or a peer. As always, don't forget to
Submit Your Ideas
to us, year-round, on all staff-related topics.
Illinois Tech Staff Advisory Council
staffcouncil@iit.edu