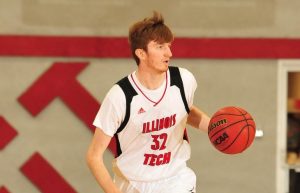 The Illinois Tech Men's Basketball team hosted the Moody Bible Archers on January 27. Illinois Tech moved to 13-6 on the season, overcoming some early sloppiness to coast to a 66-51 win.
How it Happened
Several Scarlet Hawks have stepped up over the past couple of games. Most recently, it was Parker Joncus' turn. Illinois Tech fought through some early turnovers thanks to Joncus, who scored the first 12 points of the day for the Hawks on four three-pointers.
With the Archers ahead 19-18 at the 6:54 mark, the Scarlet Hawks closed out the first half on a 16-8 run. Jake Bruns hit a charging layup off of an Archers miss as the halftime buzzer sounded.
Over the first four minutes of the second half, the Scarlet Hawks blitzed the Archers to extend the lead to 17 at 47-30. The 13-3 run to start the half was capitalized by a Max Hisatake breakaway dunk after a Calvin Schmitz steal, prompting a timeout from the Archers.
As the second half progressed, Moody's outside shooting allowed the Archers to stay afloat, but Illinois Tech never allowed the lead to go back under double-digits. After a Joshua Wedeven lay-up with 3:24 to play, neither team scored for the rest of the contest.
Scarlet Hawk Standouts
Joncus scored all 15 of his points in the first half, amassing five three-pointers, four rebounds, three assists, and three steals.
Hisatake tallied 14 points and eight rebounds on 50% shooting (six-for-12).
Bruns had a well-rounded outing of 10 points, five assists, and four rebounds.
Jake Digiorgio led all players with 17 rebounds.
Stats to Know
Illinois Tech recorded 13 steals on Moody's 18 turnovers.
The Archers actually outshot Illinois Tech 37.0% to 36.6%, but a staggering 20 offensive rebounds for the Hawks combined with Moody's turnover total led to 25 more shot attempts in Illinois Tech's favor (71-46).
Both teams made 10 three-pointers, with Moody attempting 21 compared to Illinois Tech's 29. The 29 three-point attempts is the most in a game by Illinois Tech this season.
Neither team attempted a free throw in the first half despite a total of 10 fouls issued.
Up Next
Illinois Tech plays its last game of a three-game homestand on Wednesday, January 31 as future Northern Athletics Collegiate Conference opponent Dominican University visits the Keating Sports Center. Live audio, video, and stats will be available. The live audio will be powered by Illinois Media School.