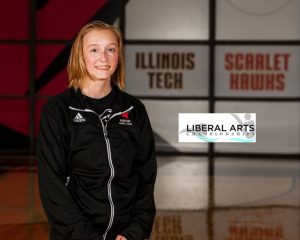 Illinois Tech's Christian Jones of Women's Swimming and Diving has earned another weekly honor. For the second time this season, the Oswego, Illinois, native has been named the Liberal Arts Conference's Women's Diver of the Week after her performance against Lake Forest on February 3.
On her Senior Day, Jones had her best performance of the season and one of the top meets of her career in the 1 Meter Diving event. The Molecular Biochemistry and Biophysics major finished with a score of 215.15. Jones' previous weekly honor came back on November 8 after a combined 309.10 diving score against Loras.
The Scarlet Hawks will compete in the Liberal Arts Conference Championships, which will take place at Luther College in Decorah, Iowa. The four-day event begins on Wednesday, February 14 at 7 p.m., followed by 10 a.m. preliminaries and 6 p.m. finals times on each of the next three days. Stay tuned to www.illinoistechathletics.com for news and links to any live coverage of the LAC Championships.