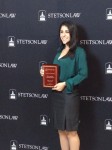 Judy Shammo, a second-year student at IIT Chicago-Kent College of Law, received the Best Oral Advocate Award during round two of the sixth annual National Pretrial Competition held October 10 through 13 at Stetson University College of Law's Gulfport campus in Florida.
Shammo was judged the best of 80 competitors in the preliminary rounds of the invitational tournament, which is designed to capture the essence of pretrial motion practice. The competition is sponsored by Stetson's Center for Excellence in Advocacy.
Shammo earned an undergraduate degree in political science with minors in Spanish and sociology from DePaul University.
The IIT Chicago-Kent team comprising of Shammo, Laura Henneman '15, Rob Kohen '14 and Lucas Peters '15 was coached by Joseph Carlasare '12, Lindsay Gephardt '12 and Rachael Sinnen '11.