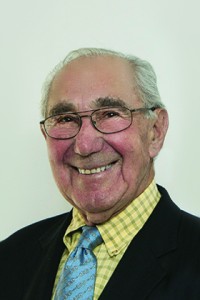 Meet Jules Knapp, this year's Galvin Award recipient.
After attending the University of Illinois, serving in the U.S. Army during the Korean War, and an early career selling paintbrushes, Knapp embarked on his first real entrepreneurial venture by starting his own paint company, United Coatings, in 1962. He grew the business steadily, and United Coatings eventually merged with Pratt & Lambert and was purchased by Sherwin-Williams in 1996. Knapp later purchased Grisham Manufacturing (now called Grisham Bros), a maker of steel security doors, and ran the company until he sold it in 2014. A natural entrepreneur who delivered newspapers and groceries and sold shoes as a boy, Knapp has devoted much of his time in recent years to encouraging and mentoring startups.
The 2016 Alumni Awards luncheon and ceremony will recognize 13 alumni and one civic leader. Help celebrate these extraordinary winners on Friday, April 29 at 11 a.m. in Hermann Hall. Registration is required, and tickets are $50 each.