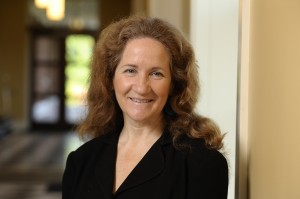 Katherine S. Newman, James B. Knapp Dean of the Zanvyl Krieger School of Arts and Sciences and professor of sociology at Johns Hopkins University, will deliver IIT Chicago-Kent College of Law's 34rd annual Kenneth M. Piper Lecture. Dean Newman will address the topic "Workers on the Run: Recession and the Pressure on Workplace Rights." The lecture, which is free and open to the public, will be held March 6 from 11:30 a.m. to 1 p.m. in IIT Chicago-Kent's Gov. Richard B. Ogilvie Auditorium, 565 West Adams St. (between Clinton and Jefferson streets) in Chicago.
Dean Newman's presentation will focus on the direct and indirect impact of the recent recession on the rights of workers – both in the U.S. and globally. She will discuss how the recession has made it politically acceptable to rewrite existing employment agreements and how federal, state and local governments are seeking to reduce
payouts to workers in this climate. Dean Newman will examine the erosion of union membership and power and the increase of political attacks on public sector unions. She will also discuss the possible "ripple effect," both nationally and internationally, if jobs can be moved outside the U.S.
Dean Katherine S. Newman is a widely published expert on poverty and the working poor. Her forthcoming book, The Accordion Family: Boomerang Kids, Anxious Parents, and the Private Toll of Global Competition  (Beacon Press, 2012), examines the impact of global competition in the youth labor markets on families in Western Europe, Japan and the United States. Dean Newman graduated from the University of California, San Diego, where she majored in sociology and philosophy. She earned her doctorate in anthropology from the University of California, Berkeley.
Two leading experts will comment on Dean Newman's remarks from employee and management perspectives.
Martin J. Mulloy has held a variety of position at Ford Motor Company in labor relations and personnel planning since he joined the automaker in 1979. Mulloy currently serves as vice president of labor affairs and currently oversees the company's worldwide hourly workforce. His duties include responsibility for Ford's health care management and worldwide collective bargaining with unions. Gwynne A. Wilcox is a partner at the law firm of Levy Ratner PC whose practice is devoted to representing unions before the National Labor Relations Board (NLRB) and other administrative agencies, and in arbitrations, litigation and contract negotiations. In addition, she currently serves as assistant general counsel of 1199 SEIU for healthcare workers. Prior to joining Levy Ratner, Wilcox worked as a field attorney at Region 2 of the NLRB in New York.
No reservations are required to attend the Piper Lecture. Attorneys who attend are eligible for 1.25 hours of Illinois Minimum Continuing Legal Education credit. For more information, visit www.kentlaw.edu/depts/cle on the Web or call (312) 906-5090.
The annual Kenneth M. Piper Lecture is sponsored by IIT Chicago-Kent College of Law's Institute for Law and the Workplace. It is presented by the Kenneth M. Piper Endowment, which was established by a gift from Mrs. Kenneth M. Piper in memory of her husband. Mr. Piper was a distinguished executive with Motorola, Inc., and Bausch & Lomb, Inc., who made important contributions in human resources and labor relations for more than two decades.
Created in 1996, the Institute for Law and the Workplace is housed at IIT Chicago-Kent College of Law. The Institute is a national center for research, training, dialogue, and reflection on the law that governs the workplace.